8 things we learnt during Anti-Tool Theft Week
Posted: Wednesday, December 8th, 2021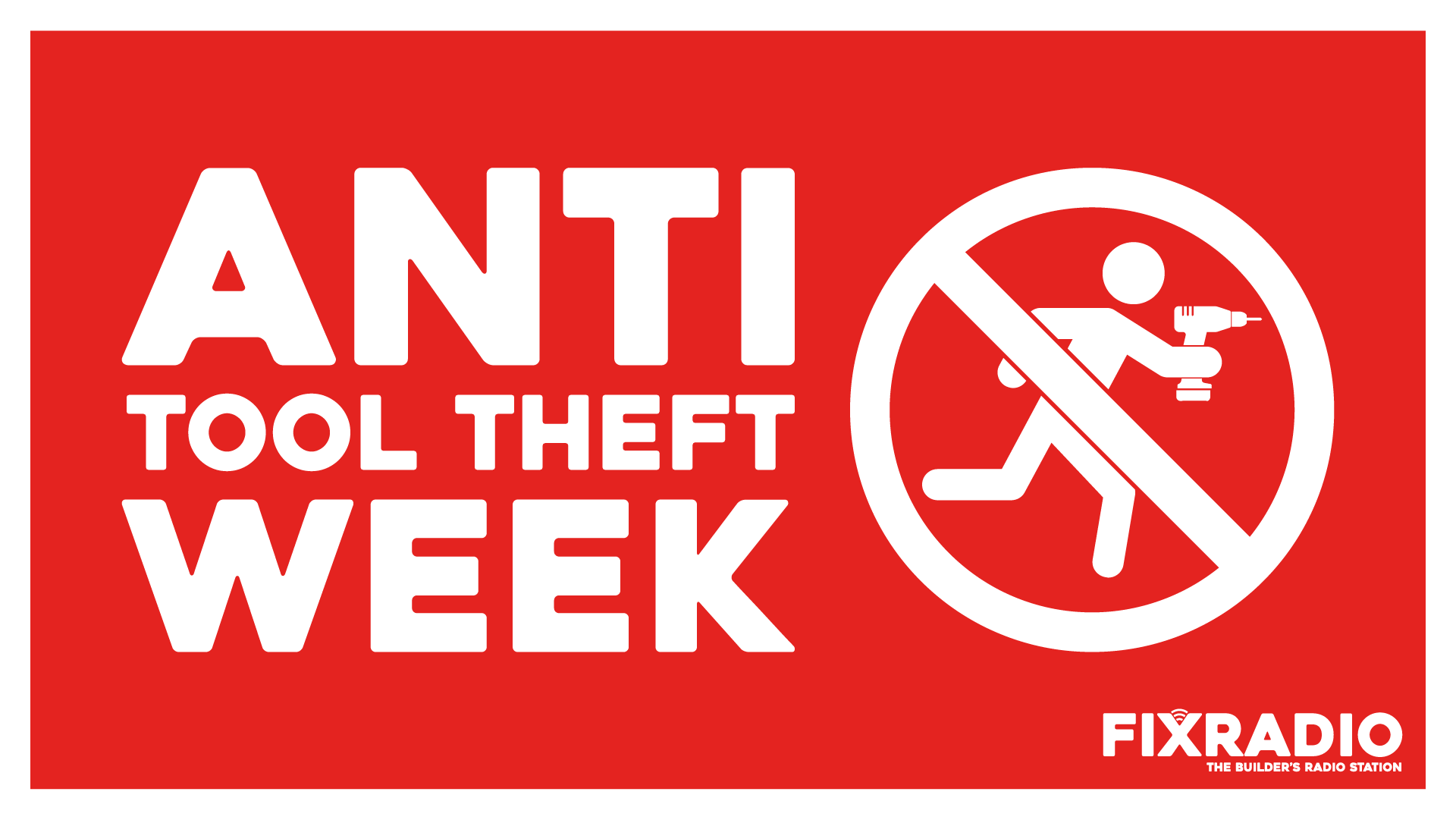 Fix Radio's Anti-Tool Theft Week brought together police, politicians, technology firms, van manufacturers, insurance brokers, tool makers, security specialists and tradespeople to raise awareness to the scale of problem, share experiences and try to identify ideas to reduce the impact of tool theft on tradespeople.
Here are some of the key takeaways from Anti-Tool Theft Week.
1 – It is a massive problem, and market research indicates it's only getting larger. Figures put together by Direct Line Business Insurance suggest that GBP£46 million worth of tools have been stolen between April and October 2021. That's equates to £245,000 worth of tools being swiped every day day.
The really concerning thing about those figures is that's just the number of reported thefts from vans.
It doesn't cover tool theft onsite. Stats from 2020 estimate that 34% of all tool theft happens on onsite, compared with 38% from vehicles.
We can only guess how much tool theft goes unreported.
2 – Other research from Direct Line indicates that up to 56% of tradespeople don't empty the van of tools at the end of each day, despite the threat of tool theft.
Painful as it might be, tradespeople must to get into the habit of emptying the van. Leaving tools over overnight in the van is just too big a risk.
3 – Fuel economy, storage area and price sell vans. Security features doesn't appear to be a priority.
According to Jeff Scott, van security expert, and owner of Sussex Installations, most models are designed with "barely any consideration for security at all".
If tradespeople want peace of mind, they must invest in extra van security. Deadlocks, van safes, steel plates behind the locking mechanisms, van alarms, cargo area partitions, CCTV in the van are all good options and will act as a deterrent.
Sometimes that is enough – you just need to make your van a harder target than your neighbour's.
4 – If it surprising that over 50% of tradespeople keep their tools in vans overnight, it's worrying that up to 44% of them don't have insurance for their tools.
There is a clear trust gap between tradespeople and insurance brokers.
It not surprising when you hear stories like Marc Firkins' – a carpenter who had £15,000 worth of tools stolen but received just a £900 pay out from this insurance firm.
According to Stephen Holland, co-founder of Armd, many tradespeople don't understand how insurance firms calculate depreciation of tools and become frustrated with the valuation insurance firms attach to equipment.
When looking for tool insurance, tradespeople must read the fine print before they buy.
Most important; hold on to your original receipts and manuals, and record tool serial numbers.
You'll need this information to make a claim. (Or if you retain any hope of reclaiming your stolen tools.)
5 – Most victims of tool theft say the same thing: the police don't have the resources to follow up on the crime. It is a frustrating truth, but that without multiple witnesses and the police on hand, very few tool theft crimes are ever solved.
Just 1% of stolen tools are very recovered.
The low conviction rate raises the question, other than getting the crime number for insurance purposes, why bother reporting it to the police at all?
The police want all crimes reported, even those they're not going to actively investigate. The more information they have, the better the chances of preventing further crimes.
However, for those 44% of tradespeople' without insurance there is little incentive to report the crime to police.
6 – So what are the politicians doing? Tory MP Greg Smith introduced legislation briefly in April 2021, but that bill died barely a month later when the parliamentary session ended.
Smith appeared during Anti-Tool Theft Week and offered assurances that the issue was 'building a head of steam' within government. However, he also said that tradespeople need to accept "with government that there are a million competing priorities." Basically, there are a lot of other issues on the Home Office's agenda ahead of tool theft.
7 – Curbing the sale of stolen goods was easier when it was a guy selling tools in the pub carpark. But selling stolen goods has gone online it's almost impossible to police.
Ideas for a country-wide database of tool serial numbers, and tighter regulation on the selling of 'used tools' through online platforms are a long way from being realised.
Here tradespeople can be proactive – don't buy second-hand tools unless it is from a reputable source, and report those selling 'suspected' stolen tools. (Reluctance to report things to the police allows the trade in stolen tools to thrive.)
8 – So what now? There is no solution about to appear from either law enforcement or law makers. The only alternative is raising the profile of the issue. We're not suggesting tradespeople glue themselves to the M25 (maybe that is plan b), but let's combine our efforts and generate 100,000 votes on a parliamentary petition to take the matter to the House of Commons. Vote here.
Trending Stories