Bald Builders pimp a portaloo in quest for awards glory
Posted: Wednesday, August 3rd, 2022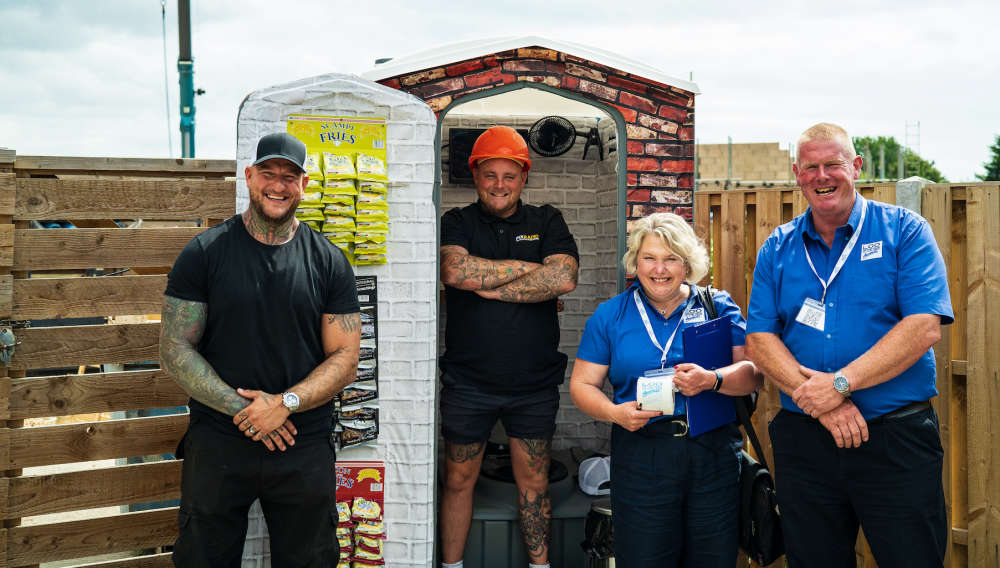 Bald Builders – Brad Hanson and Sam Hughes – have designed and built the Ultimate Builders' Portaloo and entered it into the Loo of Year Awards. The standard site portaloo, supplied by Euroloo was fitted out with an electric fan, an onsite radio, TV, WIFI and snacks.
The idea of constructing the Ultimate Builders' Portaloo stemmed from a radio feature on The Bald Builders Breakfast. The ambitious team behind the show had been keen to win an award. But with the ARIAS still six months away, they settled on entering the Loo of the Year award. Listen to the show here.
The weekday breakfast show on Fix Radio, the Builders Station started requesting suggestions for the ultimate onsite lavatory from its audience of tradespeople. Over several weeks a wallpaper finish and plush carpet were all incorporated into the design.
The judges from the Loo of the Year, husband and wife team, Charles and Becky Wall visited the portaloo in situ at the Bald Kitchen in July. The winners of the Loo of the Year awards will be announced in October with an award ceremony to follow in the new year.
"The judges were really impressed with what we've done," said Jack Edwards, senior producer, Bald Builders Breakfast Show, Fix Radio.
"The Loo of the Year Awards showcase the best in public toilets. They want to promote public toilets as clean healthy spaces. The Ultimate Builders' Portaloo does just that," he added.
Listen to how the judges visit went below.
The Bald Builders Breakfast Show goes out from 6am to 9am, Monday to Friday, on Fix Radio, the Builders Station.
Trending Stories
Comments
Add a comment
Log in
to the club or enter your details below.