Watch The Moment An Angry Farmer Flips A Vauxhall
Posted: Tuesday, June 8th, 2021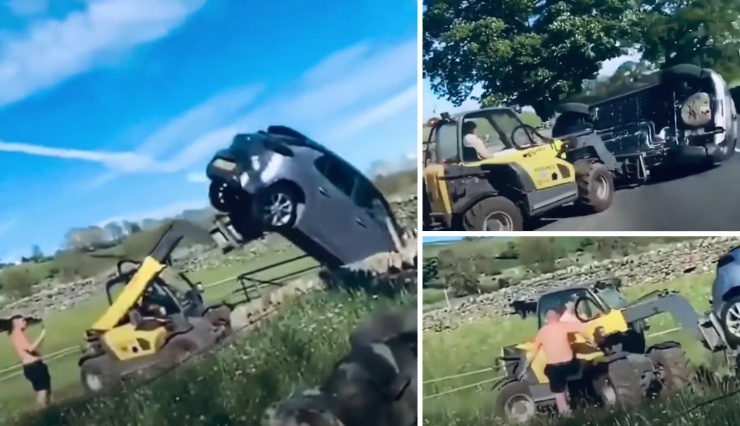 Incredible footage of a disgruntled farmer flipping over a Vauxhall with his telehandler in County Durham last weekend has gone viral with the internet divided over who was more in the wrong.
Witnesses captured the altercation between a shirtless man and a farmer who had become frustrated that a car was parked across his front gate.
Taking matters into his own hands, the footage shows the farmer using his telehandler to completely flip the Vauxhall over the gate and remove it from the property
During this time, the shirtless man is seen filming on his phone and aggressively trying to kick in the protective glass and cab of the machinery.
However, not content with just flipping the Vauxhall on its side, the farmer continues to push the vehicle even further away from his property, scrapping the hatchback along the road however calmly checking first to see if any oncoming traffic was approaching.
I fully condone this. well done farmer for getting rid of this car in front of his gate! pic.twitter.com/66v8GHh6wW

— 🚵 Hannah (@CyclistHannah) June 6, 2021
The shirtless man was lucky not be seriously injured as just before the footage ends the farmer is seen swinging the telehandler back around to his property at pace, knocking the car owner to the ground and narrowly avoiding being struck or pierced by the forks.
As reported by Metro, locals near Barnard Castle, County Durham, had become increasingly frustrated over the Bank Holiday weekend with out-of-town revellers coming to the area and parking all over the usually quieter country roads.
Many have come out in support of the farmers actions, twitter user @cyclisthannah shared the video with the caption "I fully condone this. well done farmer for getting rid of this car in front of his gate!"
Others have sided with the car owner, with one suggesting 'As satisfying as it is to see someone who is clearly pondlife get his just desserts, this is definitely criminal damage and perhaps even grievous bodily harm when he hits him with the vehicle.'
Another added: "Can't believe the responses supporting the thug in the lifter. What if the guy's car had broken down and he'd had to push it off the road? He could have killed him with the forks, too."
Durham Police said they attended the scene and are investigating.
A spokesperson said: 'We were alerted to reports of an incident at a farm in the Teesdale area shortly after 5.45pm on June 5.
'Officers attended the scene and an investigation into the circumstances is ongoing.'
(H/T Metro)
Trending Stories
Comments
Add a comment
Log in
to the club or enter your details below.