Watch The Moment A Balcony Full Of People Collapses In Malibu
Posted: Wednesday, May 12th, 2021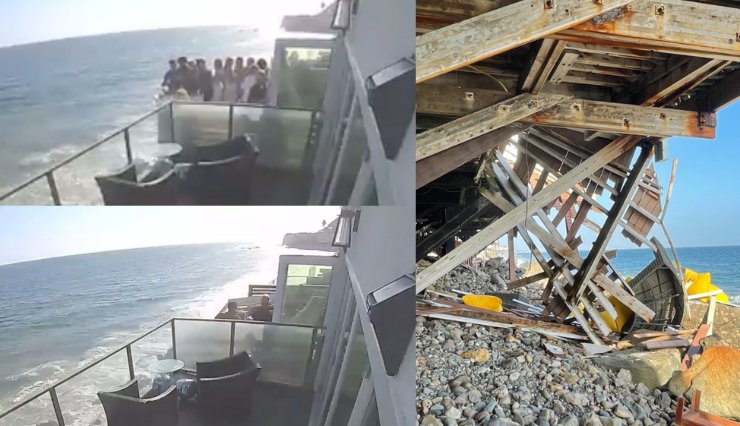 Everyone has that one story of when they rented an Airbnb and left the place a little worse for wear when they left.
You hold your breath and hope that dreaded email/invoice of "we have decided to charge you for the extensive damage left at the property" simply never comes and they somehow miss the vomit left in the kitchen or the red wine stain on the rug.
But while those examples might be easier to explain to your host, how about coming back to your property and finding the entire balcony had collapsed.
Shocking video of the moments a balcony collapses in #Malibu injuring several people. #CBSLA https://t.co/6lEnD4DxkW pic.twitter.com/1dhVsPWhi9

— Mike Rogers (@MikeRogersTV) May 9, 2021
That's the reality for an individual in Malibu, California, after a terrifying video was released showing around 15 people enjoying the ocean views and sunshine on a balcony when suddenly the floor gives way and sends everyone falling 15 feet down below to the rocky beach.
Fortunately no one was severely injured however 4 people were hospitalised and the beach house has now been declared uninhabitable by the local fire department.
As reported by CBSLA, the owner of the beach house had rented the property to some guests for the weekend, cautioning them not to hold any parties. The home has a maximum capacity of six people.
When neighbours told the owner by phone that about 30 people were at the house, the owner began frantically calling the renters.
For three hours, she says, she repeatedly asked the guests to leave, but to no avail. About 15 minutes after her last call, around 5pm, the deck collapsed.
walk everyday here in my hood ... lots of hazard issues around airbnb in malibu and those that don't understand it's sensitivities pic.twitter.com/51WpYuQ67g

— Melonie Kastman (@KastmanMelonie) May 9, 2021
(H/T CBSLA)
Feature Image Credit : Twitter MikeRogersTV/Melonie Kastman
Trending Stories
Comments
Add a comment
Log in
to the club or enter your details below.