Waitrose Home Delivery Van Crashes Into Customer's House
Posted: Monday, July 19th, 2021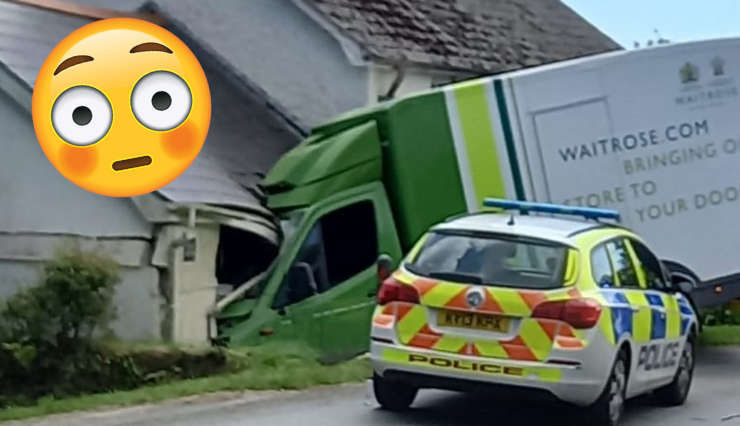 A Waitrose delivery driver has taken the slogan written on the side of the van a little too seriously, after accidentally ploughing the truck though the house of a customer in Cornwall last week.
'Bringing our store to your front door' is what the green writing says on the side of the van and that couldn't be more true in describing the scenes in the Cornish Village of Newtown.
One of the neighbours speaking to Cornwall Live said "When I got to the scene, they had closed the road in both directions and the air ambulance was landing in a nearby farmer's field."
"We found out that the man in the house was injured but okay and at one point it looked like they were going to try and extract the Waitrose van from the house, which had gone through the extension to the house with the top of the van going through the roof of the extension."
The air ambulance was calledhttps://t.co/PstqkT8GaC

— Cornwall Live (@CornwallLive) July 16, 2021
While it's not yet clear exactly what caused the driver to slam into the house, the resident was home at the time and had to be taken to hospital with minor injuries.
The driver of the Waitrose van also sustained minor injuries to his hand and was taken to hospital.
Local resident Chloe Parr also couldn't quite believe what she could see, saying "the delivery van literally in the front room" in comments made to Cornwall Live.
Due to the significant damage to the house, police closed off the street in both directions while Cornwall Fire and Rescue Service made the house safe and waited for the vehicle to be removed.
In a statement released from the supermarket giant, Waitrose said "We wish the house owner and our partner a speedy recovery.
"We are thankful no one was more seriously hurt and are grateful for the swift response and actions of the emergency services."
(H/T Cornwall Live)
Feature Image Credit: Chloe Parr
Trending Stories
Comments
Add a comment
Log in
to the club or enter your details below.