The Crate Escape: The Man Who Mailed Himself Home From Australia
Posted: Thursday, April 29th, 2021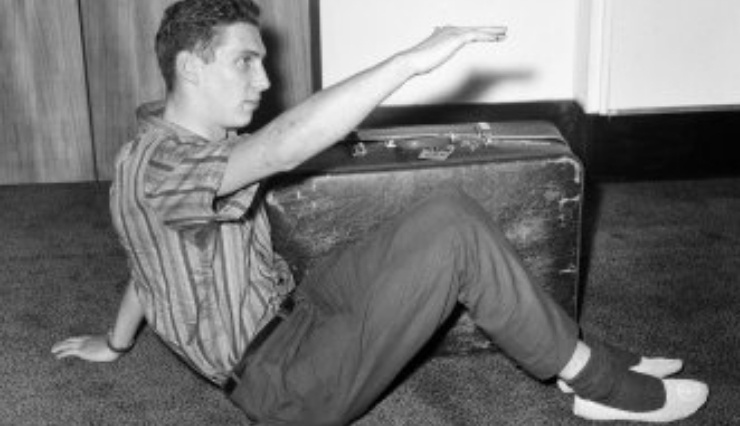 A Welshman working abroad in 1965, Brian Robson began to feel incredibly homesick and felt he had made a terrible mistake by moving to the other side of the world. His wages working on the Victorian railway were not enough to cover a plane ticket back to the UK, so he hatched a plan.
He put himself inside a wooden crate and shipped himself back to the UK, but not everything went smoothly. He joined Clive Holland on the Clive Holland Show last week to talk about the Crate Escape, and he started out by mentioning just how the situation came about…
"I emigrated to Australia when I was 18. They accepted me, but I couldn't go until I was 19. That was the youngest age to travel unaccompanied. I went over there and the Australian Government and Victorian railways told a pack of lies.
"I was basically put up in substandard hostel accommodation that was rat infested. I made my mind up that I wasn't going to stay there. Things didn't get off to a great start and didn't improve. I just couldn't get out of my mind that I wanted to go home."
Once Brian had decided to get out but realised he couldn't afford the plane fare home, he thought up a plan to mail himself back at a much lower cost. He enlisted the help of a couple of friends and got to work:
"I actually spent £3.50 at the time in buying a crate from a secondhand wood store. I had two Irish friends who helped me accomplish this. We sort of just made slight changes to it [the crate], and arranged a flight with Qantas. On the morning, I just got in there and my two friends nailed it down, say good luck. And off I went."
The journey was far from plain sailing though, as he transferred from Melbourne to Sydney, where the workers completely ignored the 'THIS WAY UP' sprayed across the side of the box:
"I was turned upside down at Sydney Airport and left upside down for 22 hours. Luckily, I suppose, I was sort of in and out of consciousness. I was caught in two minds whether to not bother [carrying on] when I thought it wasn't going to work. Then I thought 'That's really stupid - you've gone through all this, you've arranged it all, you've already flown on one airplane from Melbourne to Sydney!'
Brian eventually landed, but not in the UK. The flight he was on was diverted to Los Angeles, where he was found by American Airline workers to the shock of everyone. The journey had taken its toll on Brian though, even if he did make a full recovery…
"I had no physical injuries as such, I was dehydrated, My muscles seized up, joints seized up - I couldn't move, I couldn't speak. My throat was twice the size it would normally be. And I just couldn't speak or move. I couldn't do anything.
"They took me into Los Angeles central receiving hospital. I stayed at about six days and by then I could walk, albeit with a limp. I made a full recovery. airly quickly after really but the mental recovery took a while. Sounds crazy to say it. It took a while for me to revert to what I was before all this happened, mentally."
Brian was on a quest to find the two men who helped him get home after all these years, and eventually after over 50 years of searching – he's managed to find one of them!
"I had an email and it turns out it was actually from Paul, who is one of the chaps I was trying to locate. We're now in almost daily contact on Skype and we're discussing the past.
I'm finding out what happened after I left, I had no idea. Fortunate to him, this [story] has been in the news over and over again. So he knew what happened to me."
You can catch more exclusive interviews and amazing stories alongside industry news, great guests, and amazing tunes on the Clive Holland Show between 2 – 4pm, Monday through Thursday.
Can't wait that long? Catch the weeks action below on the Clive Holland Podcast any time!
Trending Stories
The RSS feed could not be loaded.
Comments
Add a comment
Log in
to the club or enter your details below.