Swimming Pool Suddenly Gives Way & Crashes Down On Carpark Below
Posted: Friday, April 30th, 2021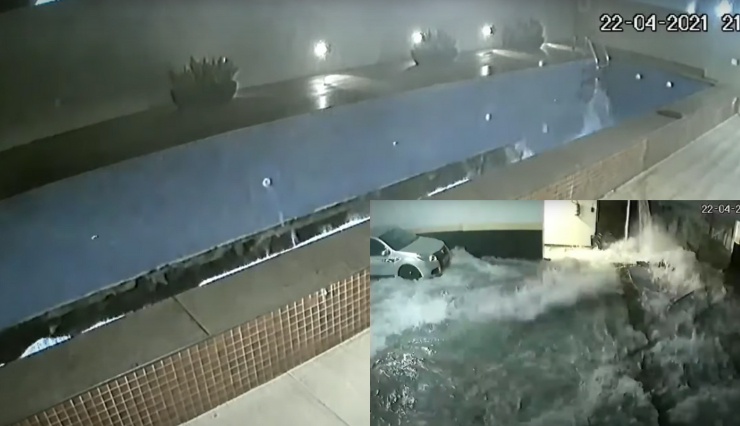 I'm sure there are some people out there that have an irrational fear that a suspended swimming pool at a high-rise hotel might suddenly give-way and if that's you…then probably don't watch this video.
Incredible CCTV footage has captured the moment a 75ft long swimming pool in a Brazilian apartment complex suddenly gave way, sending water and debris crashing down on the car park below.
The incident occurred at Vila Velha, in the south eastern state of Espirito Santa on April 22, with 270 residents being forced to evacuate as the cause of the terrifying collapse could not be determined.
Speaking to G1, one resident said "We heard a very loud noise. We immediately went to find out what had happened. 'We went to the balcony and saw lots of water coming out of the building and we went down quickly, grabbing a few things. Thank God it was not a bigger problem."
There were some reports that some residents could smell gas as the pool was heating up in the evening but safety engineers are still yet to confirm a definite cause.
Fortunately no injuries were reported as the collapse occurred later in the evening after the pool was closed.
(H/T Metro)
Trending Stories
The RSS feed could not be loaded.
Comments
Add a comment
Log in
to the club or enter your details below.