Scottish Tradesman Watching TV Interrupted By Car Smashing Through Front Drive
Posted: Tuesday, October 19th, 2021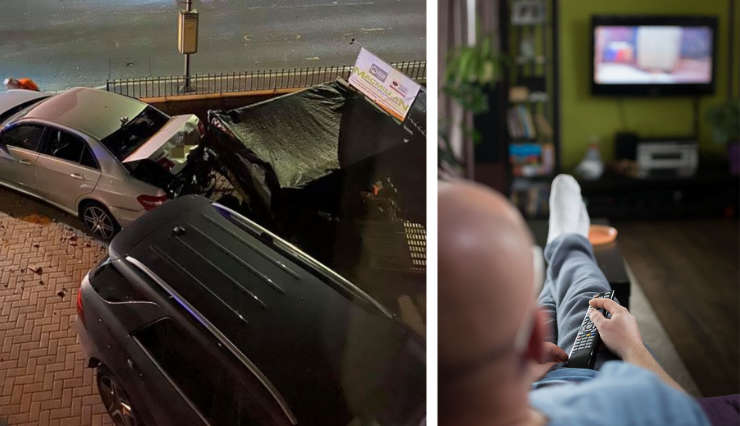 How would your nerves be after sitting down quietly on a Friday evening with your partner, enjoying the latest episode of Squid Game let's say, only to be interrupted by a motorist losing control and smashing straight through your front garden brick wall?
If you want to know how it feels, just as Donny MacMillan, after the builder faced chaotic scenes last Friday outside his home in Ayrshire when an elderly driver lost control and came crashing through his property - smashing into his work trailer.
The couple immediately rushed to the aid of the driver in his 80's, who had apparently lost control much further up the street where debris and other cars had been damaged, before his Mercedes came to a halt at the tradesman's house.
The impact was so severe that when the brickwork smashed to pieces, a bit of the wall went flying through their neighbours car window as well.
As reported by the Daily Record, the owner of MacMillan Preservations said, "I was just sitting watching TV and then next minute we heard an awful crash."
Donny MacMillan was enjoying a quiet night in when scenes of carnage unfolded outside his homehttps://t.co/ydxelUzQCt

— The Daily Record (@Daily_Record) October 18, 2021
"We went out the front and it was total carnage."
"There was a car sitting in my driveway which had reversed and smashed into my trailer."
"There were several cars along the road that were smashed, there was glass and debris everywhere."
"The whole street was out looking at the mess, it is just lucky that no one else was walking along the street or standing in our garden at the time."
"We just rushed out to ask if the driver was okay, he was an elderly man, he seemed fine just a bit dazed by what had happened, he said he was in his 80s."
It's not yet clear what caused the driver to lose control and police are still continuing their enquiries.
(H/T Daily Record)
Feature Image Credit: Daily Record
Trending Stories
Comments
Add a comment
Log in
to the club or enter your details below.