'Rude' tradesman includes a very shocking extra service on his client's invoice: 'I don't know what I did wrong'
Posted: Tuesday, April 19th, 2022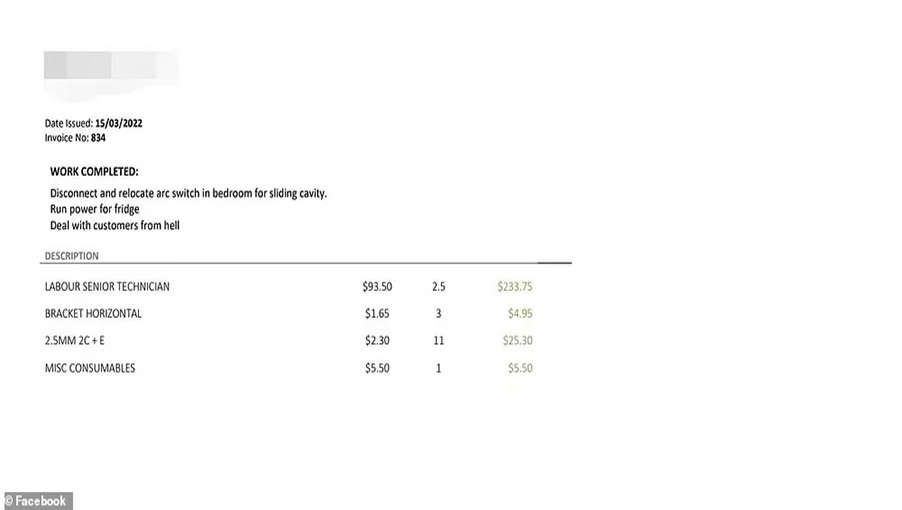 An Australian tradesman has offended a female homeowner by leaving a very unusual item on his invoice about having to 'deal with customers from hell'.
The rude comment was written under an area of the invoice titled 'work completed', which included disconnecting and relocating the arc switch in the bedroom for a sliding cavity and running the power for the fridge, the Mailonline reported.
The woman who received the bill posted it on Facebook, asking what would compel a tradesman to write such a snide remark.
"I have no problem with the cost,"she said. "I don't know how it works but he was subcontracted by my builder.
"He was there to do a couple of small jobs with power points and light switches so the cavity doors could go in. We need other work done but the power box needs an upgrade and has two asbestos boards in it.
"He was explaining what needed to happen and what he couldn't and wouldn't do and I wasn't really understanding so I guess he was annoyed at having to explain it too much?"
The woman admitted to sending a follow up question in an email which he was 'rude' about too but she couldn't see how any of their discussions warranted being called a 'customer from hell'.
Trending Stories
Comments
Add a comment
Log in
to the club or enter your details below.