Roofing Company Sues Couple for £90k over 1-Star Google Review
Posted: Monday, July 26th, 2021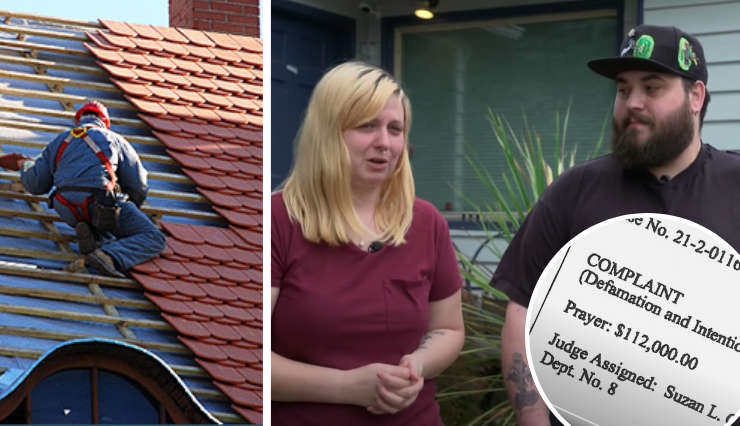 A couple is facing the prospect of paying a settlement of more than £90,000 after they were sued by a local family-owned roofing company after they both left a 1-star Google review of the business.
Autumn Knepper and Adam Marsh, from Vancouver, Washington, were shocked to open their mail and find a lawsuit had been served to them by Executive Roof Services (ERS) to the tune of $US112,000 (£91,731), accusing the pair of defamation and intentional interference with business expectancy.
The 1-star reviews were left after the couple reportedly had a unpleasant experience with the receptionist from the roofing firm, who had been hired by their landlord to come to the property to check out a leaking roof.
In one of the reviews, Knepper wrote "The ERS receptionist refused to give me any information. She said I would have to get it from the landlord. I asked to speak with the manager and she laughed at me. She told me I was verbally abusing her and that she was the office manager. She hung up on me."
As reported by KGW News, the owner of the roofing company contacted Knepper and Marsh, insisting they remove their negative posts before "more damages were done" to their reputation.
The roofing company says there's more to the story though, citing the fact that the young couple not only left poor reviews on Google, but they also filed a complaint to the Better Business Bureau - a private, nonprofit organisation focusing on advancing marketplace trust - in what they say is a clear sign that the couple were 'out to get them'.
Speaking to KGW News, Kneepper said "Honestly, I cried immediately. I was terrified. I can't afford a lawyer. I can't afford to pay $112,000. And I can't, I don't want to file for bankruptcy".
Adam Marsh's review stated that "[The ERS receptionist] was just super rude, told me that she was office manager and there was no one else I could talk to and hung up on me".
Lawsuits over poor and damaging online reviews are becoming quite common in US courtrooms, in New York City a gynaecologist filed a $1 million lawsuit against a woman over a critical Yelp review in 2018, as reported by Newsweek.
(H/T Newsweek)
Feature Image Credit: KGW News
Trending Stories
Comments
Add a comment
Log in
to the club or enter your details below.