Roofer Fined After Ladder Flies Off Roof Through Windscreen Of Van
Posted: Tuesday, July 27th, 2021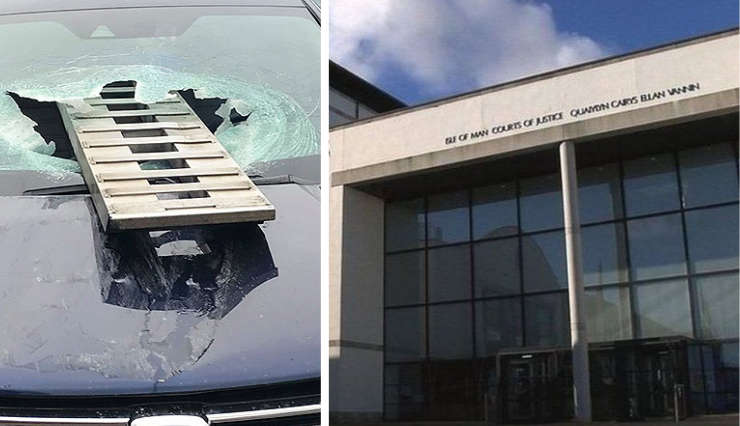 A roofer from the Isle of Man has faced court and been fined after a ladder he attached to the roof of his van came loose, flying off the back of his vehicle and through the windscreen of another Ford Transit Van.
Sean James Weir, 48, denied claims that the ladder was insecure and insisted that it was a 'freak accident' due to extreme weather on the day with high winds.
The terrifying incident left the driver of the smashed van hospitalised with cuts to his hands and face as well as scratches on his eyeballs, in a sign of just how close the ladder came to inflicting more serious injuries.
Police arrived on the scene to find the ladder still stuck and embedded through the van's windscreen, with a statement from the driver of the Transit Van outlining that "the ladder came at him like a missile and that he thought he was going to die".
As reported by IOM today, the court heard that since the incident, the victim has suffered back pain, anxiety about driving, and difficulty sleeping.
Defence advocate Jim Travers argued that his client did not flee the scene and was extremely concerned for the victim, coming to his aid, calling emergency services and removing debris from the road to avoid anyone else getting hurt.
In a statement read on behalf of Mr Weir in court, Jim Travers said 'Due to remarkably strong winds this particular day and some freak occurrence, the ladder became loose. Mr Weir feels very bad about it.'
Mr Weir was fined £500 by High Bailiff Jayne Hughes, who also endorsed the roofer's licence with 3 penalty points and was also asked to pay £50 in prosecution costs.
(H/T IOM Today)
Trending Stories
Comments
Add a comment
Log in
to the club or enter your details below.