Plasterer's Crowdfund Raises £60,000 To Help Domestic Violence Survivors
Posted: Thursday, July 8th, 2021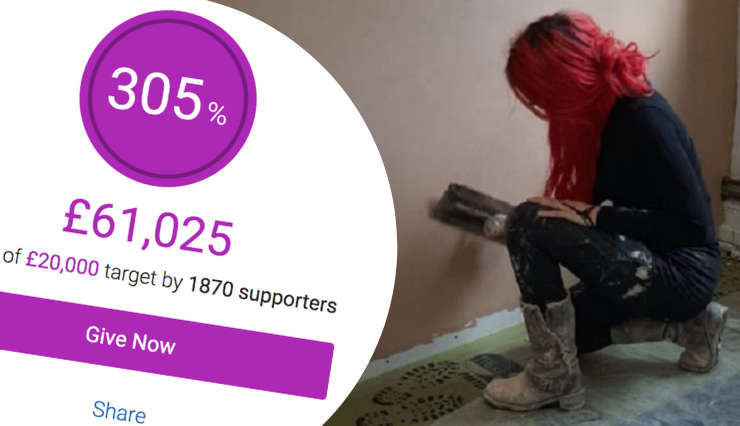 A plasterer in Derbyshire has raised more than £60,000 in a campaign to provide plastering work, materials and other trade-related services for free to survivors of domestic abuse.
Naima Ben-Moussa set an initial target of £20,000 when she launched the campaign a few months back, after witnessing an uneasy site when she turned up to a job.
On the crowdfunding page she explained that "Yesterday I went to visit a beautiful strong women. I walked into her home and saw the mess a man had left her in. For 10 years suffered horrific abuse. She told me that one assault lasted for 4 hours, my heart broke for her. But when she was stood in front of me I saw her strength, in fact my hair stood on end just being in her company. She is a survivor."
With donations now sitting at £61,025 at time of writing, the tradeswoman has been overwhelmed by the generosity of those that have contributed and tradespeople from all over the UK have got in touch to offer their services and get involved in any capacity.
A #NewMills plasterer who survived domestic abuse has raised £55,000 to help other survivors.
Well done Naima https://t.co/ZDlWPTgcb1

— Buxton Advertiser (@Buxton_News) June 22, 2021
In comments made to The Buxton Advertiser she said "I am so overwhelmed."
"I can't believe the generosity of people and how quickly the money came in."
"I am a survivor and I want to help other women who are survivors too."
"I have been inundated with hundreds of messages from tradespeople up and down the country who all want to help give their time for free to help women move forward."
"It's amazing I've got lists of plasterers, electricians, plumbers even roofers and interior designers all wanting to get on board."
The fundraiser has grown so much that Naima is now working with domestic abuse charity Crossroads High Peak who are in contact with women who might be in need of repair work at their homes following acts of violence or abuse.
To make a donation visit https://www.justgiving.com/crowdfunding/naimaredbenmoussa.
(H/T Buxton Advertiser)
Trending Stories
Comments
Add a comment
Log in
to the club or enter your details below.