London Tradesman Wins £8,000 Rolex Off 50p Guess
Posted: Friday, July 16th, 2021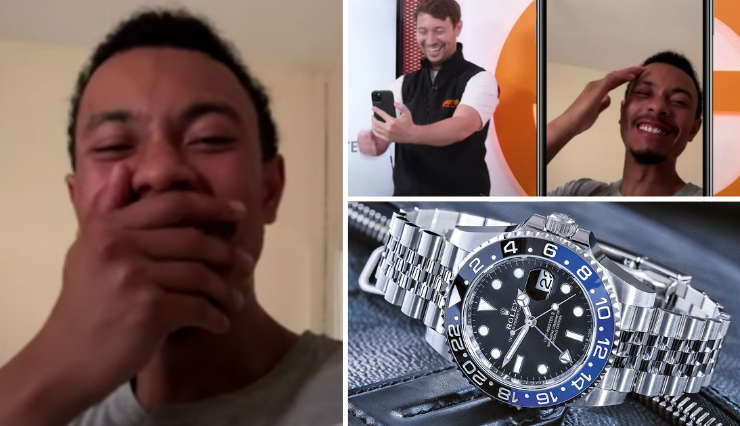 A London tradesman is going to be walking around wearing the same watch Roger Federer and Kasper Schmeichel wears, after he won a Rolex GMT-Master II Batman watch - valued just shy of £8k - off a 50p guess he made with online competition company BOTB.
Jonathan Veal was the lucky winner of the watch and as you can imagine, he could barely believe his luck when he was contacted by the company to tell him he'd won the piece.
So what was the question he had to correctly answer to win this Rolex valued at £7,750?
Out of 9 countries displayed, entrants had to pick which of the 9 nations did not qualify for the 2020 European Championship - with Greece being the correct the choice.
Not a keen football fan, Mr Veal admitted it was 'just a lucky guess' and that he had actually forgotten he'd entered the competition that cost 50p to play all together.
In a video shared on BOTB's website, presenter Christian Williams video called the tradesman to tell him he'd won.
"Wow – I can't believe this," said Jonathan.
"It's crazy – I've always wanted something like this."
"It's just such a signature piece – that one specifically; I really like the face. It's not too big, it's not too small, it just sits perfectly on the wrist. It just looks classy."
Before lockdown, Jonathan was a personal trainer but due to the pandemic he made a career change and is currently undertaking a construction apprenticeship.
If you're not familiar with BOTB (Best Of The Best plc), these guys run weekly online competitions where you can buy a ticket - for sometimes as little as 50p - and go into draws to win anything from supercars, motorbikes, holidays, electronics and cash.
The company, listed on the stock market, was founded by William Hindmarch in 1999 and has given away more than £42m-worth of cars so far, according to its website.
(H/T London Post)
Feature Image Credit: BOTB
Trending Stories
Comments
Add a comment
Log in
to the club or enter your details below.