Locals Squirm Watching Roofer Without Harness Work On Church Roof
Posted: Tuesday, September 14th, 2021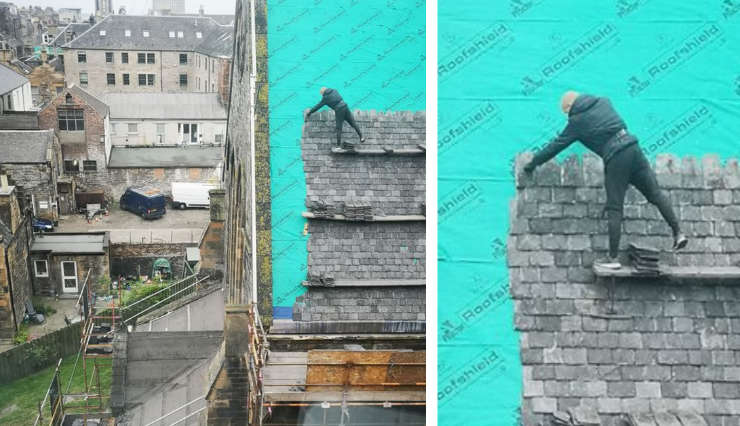 An image of a roofer undertaking repair work on top of a church in Scotland has gone viral, with locals shocked to see the man working without a harness on and carefully walking across a narrow slate - perilously close to a 50ft drop.
Locals in Leith looked on in amazement as the tradesmen carefully balanced along a beam and repaired the roof of St James the Less church on Johns Place that had been damaged due to bad weather earlier this year.
Despite the height and dangerous work, the roofer displayed no signs of safety equipment or harness gear with many sharing the image online in local Facebook groups.
As reported by Edinburgh Live, one person was amazed at the combination of calmness from the tradesmen and yet clear danger involved in the work, saying "I had my heart in my mouth watching him, he must have been around 50ft up.
"It was amazing though, he was just shuffling along, placing the slate and then shuffling back again; his balance was impeccable.
"There was only a width of slate protecting him from a fall, it was nerve racking to see but quite impressive."
(H/T Edinburgh Live)
Trending Stories
Comments
Add a comment
Log in
to the club or enter your details below.