Lad Riding Power Trowel Falls Off And Slices Mates Face
Posted: Thursday, October 21st, 2021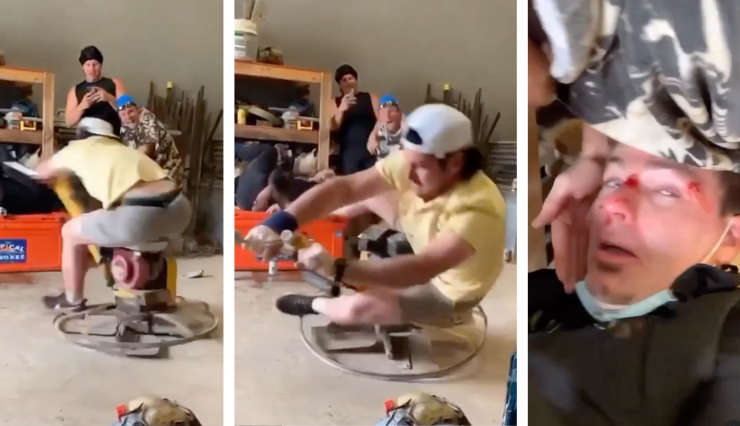 Operating construction machinery can be dangerous at the best of times but throw a few beers into the mix and someone to come up with a dumb idea and you've got the perfect recipe for disaster.
A bloke in Australia decided to ride a power trowel like a mechanical bull while his mates cheered him on over the weekend, with the lad eventually losing control and falling off it.
And while remarkably the guy riding the thing didn't appear to injure himself, the same can't be said for his mate who was siting nearby - with the handle-bars of the machine quickly flying around and catching him between the eyes.
In the last scenes of the video, that was shared by Brown Cardigan, the clearly shaken friend is seen with blood on his face and a few gashes from the machine on his right eye and the bridge of his nose.
There's alot going on in the video but perhaps the most bizarre part is that the bloke who was injured was wearing a pair of roller-blades - a strange detail that was pointed out by many online.
One user wrote "The lad with rollerblades on…so many questions."
Another added: "I hope Netflix picks up this show."
"I think the bloke in the rollerblades is cheering at something entirely different. He has no idea what is going on. Legend."
Trending Stories
Comments
Add a comment
Log in
to the club or enter your details below.