Joiner Wins £58 Million. Takes All His Tradesmen Mates On Holiday To Dubai
Posted: Tuesday, April 27th, 2021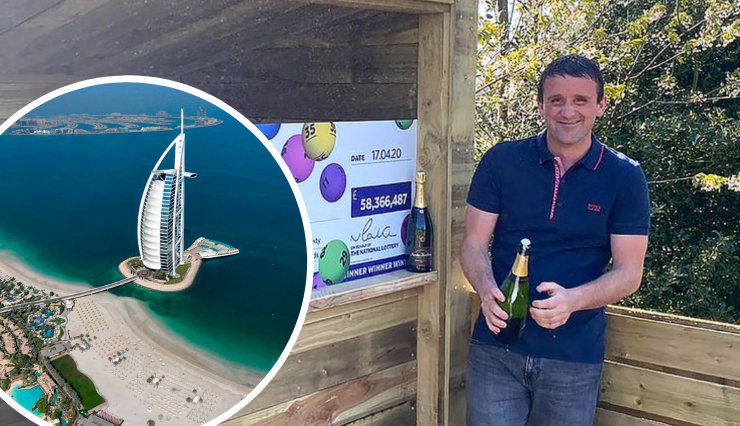 We've all had that conversation with our friends and family - What would you do if you won the lottery?
You've probably also thought about if you did win it - or if a mate did - would you dish out any cash to them or maybe even expect some to come your way if one of your closest friends took home the jackpot?
Well mates of a joiner in Rochdale got their answer to that, after their friend Ryan took home a mammoth £58 million on EuroMillions last year and took 7 of his tradesmen mates on an all-expenses paid trip to Dubai.
As reported by Mirror, the group stayed at the Five Jumeirah Village Hotel in January in two top-floor penthouse suites with private terraces costing the joiner a cool £20,000.
Pictures on social media showed the group enjoying 6-litre bottles of Laurent Perrier champagne and Ciroc Vodka that cost a tasty £1,700 each.
Euromillions £58m jackpot won by joiner - who celebrated two metres from familyhttps://t.co/d1BSpPbN52 pic.twitter.com/GHPcXrlpx3

— The Mirror (@DailyMirror) April 22, 2020
The cheapest part of the trip was probably the flight there though, with the group having to travel economy due to seating restrictions but that was rectified on the way home, with first-class seated travel sorted at a cost of £6000 each.
Ryan Hoyle, 38, was checking his emails at 6am in his work van when he realised he had won the EuroMillions and drove straight to his mum and dad's house as he couldn't quite believe it.
Due to covid and social distancing he couldn't even go inside their house to double check the result, as he ended up handing his phone through the window to his parents who confirmed his incredible win.
Speaking to the Mirror, life-long friend Peter Garry said "I've know Ryan for 20 years and he's the best friend anyone could have. There's never been anything flash about him and the win hasn't changed him a bit - he's still the same great guy."
To be fair I'd be saying that too if my mate took me out to Dubai with his winnings!
(H/T Mirror)
Trending Stories
The RSS feed could not be loaded.
Comments
Add a comment
Log in
to the club or enter your details below.