Eddie The Eagle Reveals Origins of Iconic Nickname
Posted: Tuesday, June 8th, 2021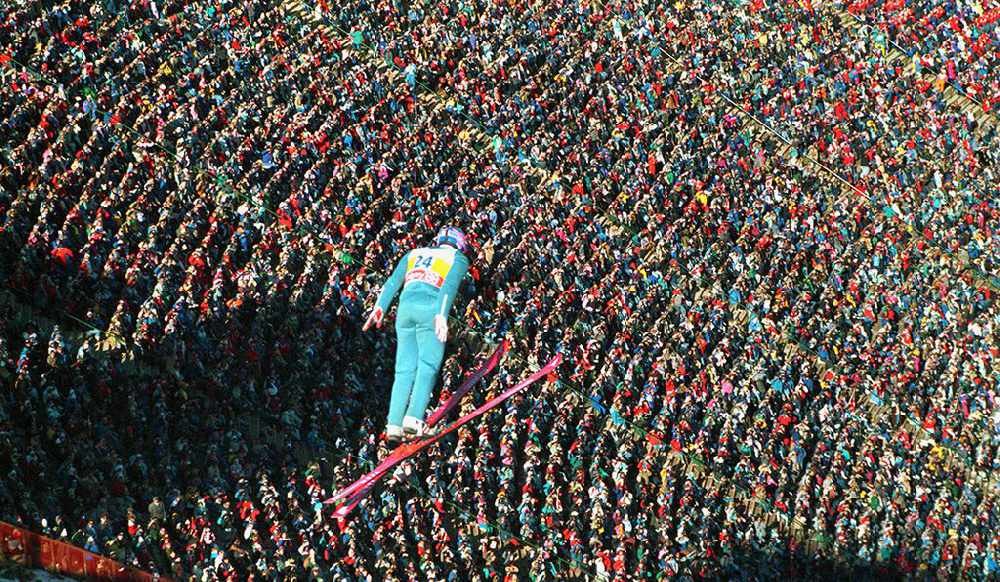 Nicknames are a fundamental part of any workplace, especially in the trades. They all have funny or sometimes fairly straightforward origins, but that's not the case with winter Olympic hero and national treasure, 'Eddie the Eagle' Edwards.
He joined Clive Holland on the Clive Holland Show recently to discuss his career and how what he's done in sport and in the media came about. Clive started out by asking him about his infamous nickname, though…
"I mean, although my real name is Michael, nobody really uses Michael very much - only my family. But when I went to infant school in Cheltenham, my friends used to call me Ed because of my surname being Edwards. And then Ed became, Eddie so that's what everyone used to call me.
"When I started skiing, I used Eddie, then, two weeks before the Olympic Games I did an interview with the BBC Nine O'clock News and I said 'I'm Eddie Edwards, and I'm going to be Britain's first ever Olympic ski jumper - to all you people who I asked for sponsorship, and you didn't give it to me - I got there without your help.' And they got such a response when they put it on.
"They showed it on Canadian television as well and then a group of supporters christened me Eddie the Eagle. Two weeks later, I arrived in Calgary and I saw a big banner on the wall at Calgary airport that said 'Welcome to Calgary, Eddie The Eagle!' - and that's how it all came about."
Eddie (Michael) went on to talk about going to those infamous Olympic games in Calgary that gained him so much recognition at the time and was obviously subject to the biopic film in 2016:
"Obviously arriving in Calgary and being christened 'Eddie The Eagle' took everybody's imagination - and they all love the story. They organised a huge press conference for me in the middle of Calgary and there must have been about 800 people from the media from all over the world - and I couldn't get into the press conference, because I didn't have the right pass or the right accreditation.
"The security guard wouldn't let me in and said 'There's a press conference in there for Eddie The Eagle' - and I said 'I am Eddie The Eagle!' He said 'No, no, you don't even look like an athlete'!
"Eventually, I managed to get a pass to get in there. When I said 'I'm sorry I'm late, but the security guard wouldn't let me in because he said I didn't like an athlete', they roared with laughter.
"I told them all about my story about you know, how I started skiing at an early age, went into racing and then I went America, ran out of money, studied ski jumping - slept in the car and slept in a mental hospital - they lapped it up and thought wow, this is such an unusual story and they loved it!"
Despite a few goes at breaking in to the winter Olympic circuits and then failing to qualify for the 1992 and 1994 games, Eddie ended up swapping the slopes for the trades – and now works in his native Gloucestershire as a plasterer, which he told Clive all about…
"I've always been a plasterer, just like in the film! I come from a long line of plasterers, my dad was a plasterer, my uncle's were plasterers, my granddad was a plasterer and my brother is a plasterer!
"I grew up on a building site, a building site used to be our playground - we used to love running around it and I'm still a plasterer to this day.
"When I buy a house, I tend to buy an old house that needs a lot of work during to it. Then I spend the following sort of months or years gradually doing it up. I'm renovating the house that I'm living in now and I've got permission to build two new houses in the garden! So I'll be doing those as well."
"So whenever I'm not busy doing TV work or doing speaking at a conference or a dinner, I'm busy with my tools. I've branched out though, I can do all the electrics, I do a lot of the plumbing now except obviously gas and I do the roofing and the bricklaying. I love it. I love getting my hands dirty. I love the variety."
Clive of course couldn't let Eddie go without asking him about the iconic film that Taron Egerton starred in back in 2016 that detailed the story of his life, and he asked him what he thought of his portrayal on the big screen:
"He did a wonderful job. I went to Pinewood Studios to meet him just before they started filming, because he wanted to get an idea of my accent and my mannerisms and things. When I went out on set and watched them film the scenes. I couldn't believe how much he looked, sounded and acted just like me. He had my moustache, my glasses, my hair and he did a great job. He made the film so easy to watch because he played me so well! I love to the film, I've seen it about 105 times now!"
If you want to hear more celebrity interviews alongside industry chat and great tunes, you can tune in to the Clive Holland Show between 2-4pm, Monday through Thursday.
Can't wait till then? You can catch Clive's weekly podcast down below!
Trending Stories
Comments
Add a comment
Log in
to the club or enter your details below.