Dad Builds A Custom Made Exoskeleton To Help Disabled Son Walk
Posted: Wednesday, July 28th, 2021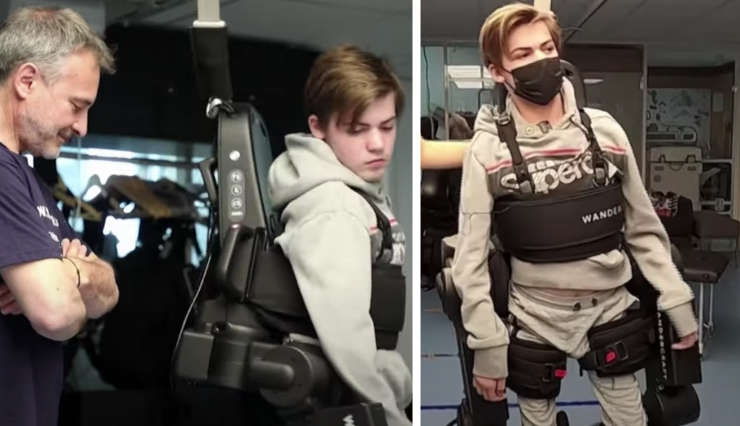 As far as hero dads are concerned, this bloke has got our vote for the dad of the month - maybe even the year.
Jean-Louis Constanza, a robotic engineer who co-founded the company Wandercraft, was able to test out their ground-breaking new product - the exoskeleton - on his 16 year-old son who suffers from a genetic neurological condition that prevents his nerves from sending enough signals to his legs to walk.
The exoskeleton is an apparatus that is fastened to a person with an outer frame that supports but also stimulates body movement - providing those with disabilities the ability to walk unaided and independently.
Inspired by a casual conversation with his son Oscar, the father recalled to Reuters that "One day Oscar said to me: 'dad, you're a robotic engineer, why don't you make a robot that would allow us to walk?"
Voice-controlled, Oscar is able to command "Robot, Stand up", which sparks the exoskeleton into action and brings the teenager to his feet.
"Before, I needed someone to help me walk ... this makes me feel independent," said Oscar.
The exoskeleton is the latest advancement in moving toward a world of no wheelchairs with technology rapidly developing in exciting and new ways.
Still in it's early stages and at great cost, it is not currently available to be bought privately but has been sold to a number of hospitals in the United States, France and Luxembourg at a cost of roughly $US150,000 (£123,000).
However, a spokesman from Wandercraft said it is currently focused on working towards making it available for private individuals.
(H/T Reuters)
Feature Image B/60 Youtube
Trending Stories
Comments
Add a comment
Log in
to the club or enter your details below.