Cowboy Builder Takes £17k And Leaves NHS Widow With Rotting Extension
Posted: Wednesday, April 28th, 2021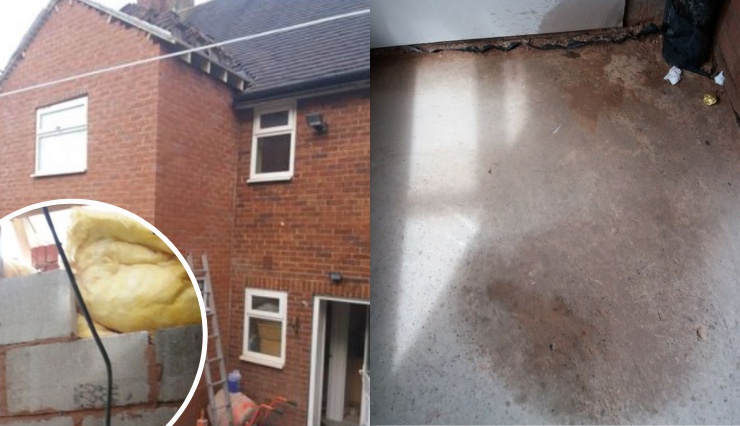 An NSH worker and widow was forced to live in her freezing cold home for eight months after falling victim to a botched, unfinished extension that left her £17,000 out of pocket.
Kirsty Gordon, a 49-year-old from Stourbridge, had only just started to rebuild her life following the tragic death of her partner when she decided to get a two-story extension to build her 'dream home'.
Unfortunately the experience was anything but a dream, with the cowboy builder walking off the site, not returning her calls and leaving her with a huge rotting hole in the roof that caused rain and snow to fall inside and cause mould.
On top of the unfinished work, Kirsty was also left with damage to her driveway and back garden which all had to be redone by another builder who eventually came in to fix the cowboy's work, which included completely demolishing the original extension and costing her close to £29,000.
Speaking to Black Country Live, Kirsty said "There was a ceiling covered in tarpaulin but it had rotted through and was leaking, there was no insulation or anything, sometimes it rained and snowed into the house."
Victim of rogue builder says shoddy extension made 'it snow in her living room'https://t.co/tRDU43hl9B pic.twitter.com/eRv0KgCYLN

— The Mirror (@DailyMirror) April 27, 2021
"It had a terrible effect on my mental health which was already bad after my partner died. "
"He was very unprofessional and the whole experience was awful. I've had to get my whole driveway and back garden redone as well because of the mess he made."
"There were times when his bricklayers would turn up at 8am but he wouldn't be here and there would be no bricks so they were just standing around doing nothing. It was absolutely awful."
"It looked OK to the eye but on closer inspection, it had timber on the roof and no tiles - it was just tarpaulin. With the wind that came down, it gave zero protection.
"He didn't tie the extension to the top half of the build and also didn't put insulation into any upper parts of the build", in words given to Black Country Live.
In a win against cowboys, the 49-year-old decided to take the builder to court where he was prosecuted by Dudley Trading Standards and ordered to pay her £13,000 in damages.
Throughout proceedings the court also heard that the original builder didn't give the homeowner their rights of cancellation as required either.
Karen Wright, Dudley Council's director of Public Health & Wellbeing, said: "This prosecution sends out a clear message we will protect consumers from the activity of traders who flout the law and carry out substandard work."
(H/T Black Country Live, Mirror)
Feature Image Credit: Kirsty Gordon
Trending Stories
The RSS feed could not be loaded.
Comments
Add a comment
Log in
to the club or enter your details below.