FIVE GADGETS YOU NEED IN YOUR TOOLBOX
Posted: Monday, March 5th, 2018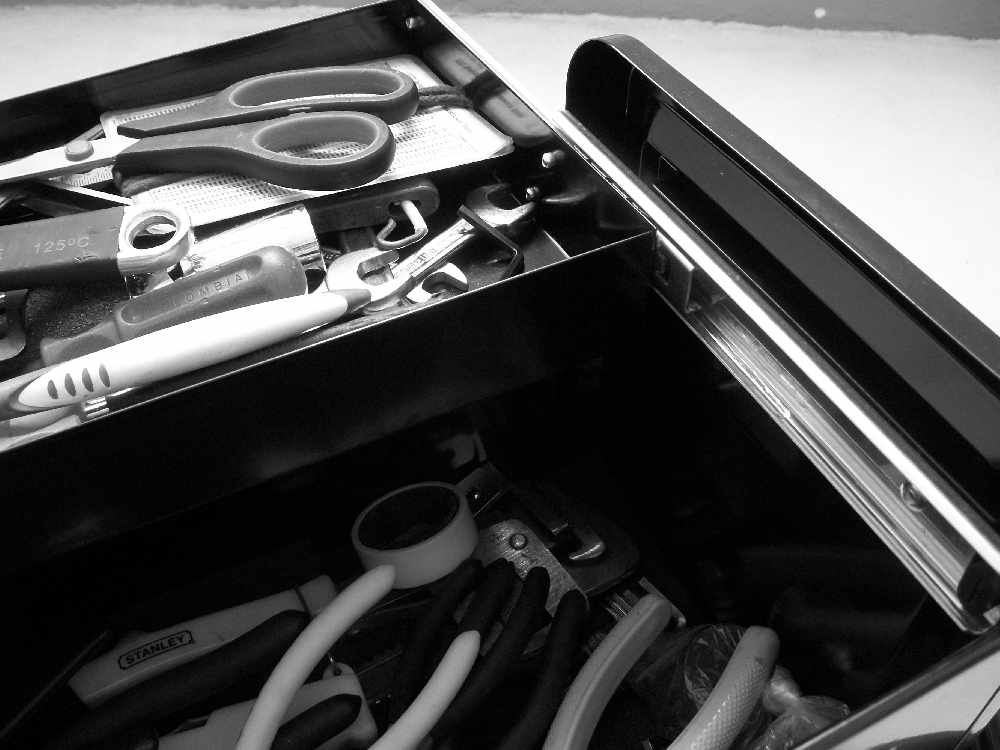 It goes everywhere with you, you can't do your job without it, and every builder has one. We are of course talking about your toolkit! We know any good tradesperson will have all the essentials (screwdriver, spirit level, hammer, the list goes on) but what about the added extras that will make your teammates envious and take your toolbox to the next level? We've selected 5 gadgets you should add to your toolkit today:
1. This piece of kit can save you time and resources! We are of course talking about an Inspection Camera. Want to check the condition of a wall, but don't want to take whole chunk of the wall down? Simply drill a small hole in the wall, stick your Inspection Camera in and get a clear view of the situation on the devices video screen. Inspection cameras can also be used to carry out machine, vehicle and pipe inspections. Why not check out this DeWalt Inspection Camera. 


2. What if you could trim down your tool kit and your team size? No, we're not suggesting you fire someone, but you might want to consider the the Air Shim before two of you head off to your next job. What does it do? Well, imagine being able to hold a 300lb cabinet in position by yourself - no extra hands required! This handy device enables you to lift, shift, level and align, on your own. Simply slide the Air Shim into place and use the hand pump until the object you're working on is in position. Simple. 

3. Strictly speaking this isn't one to go in your toolkit, but given the nature of the job it's important to protect one of your most important pieces of kit. We're of course talking about your phone. It's likely that yours cost a few bob, plus, break it and you could even miss out on future work. Whether you have an iPhone, Samsung or Google Pixel, word is that Urban Armor Gear (UAG) phone cases are top notch for protecting your phone. UAG cases even meet military drop-test standards and some cases conveniently come with card holders. Check out the collection here. 

4. How much does your toolkit weigh? 10, 15, or 20kg? Perhaps it weighs as much as your two year old nephew, or even as much as your Mrs' suitcase before your annual trip to the Costa del Sol? Whatever it weighs, we're all about gadgets that can lighten the load. That's where the Bosch Max FlexiClick 5-in-1 Drill/Driver System comes in. As the name suggests this bit of kit boast five drills in one; keyless drill chuck, off-set angle adapter, lockable bit holder, angle adapter and a magnetic bit holder. If that wasn't enough it's incredibly compact at just 133mm in length and weighing in at a cool 0.8kg. Want to know more? Check out this video from The Tool Nut team. 

5. Now, this list wouldn't be complete without one of the most important pieces of kit. We are of course talking about a DAB radio! Why not impress your mates on the jobsite with a Compact Erbauer Bluetooth Site Radio? It features two loud 10W speakers for a rich sound, a USB charging socket to charge your mobile and Elastomer Bumpers for 360° protection. Plus, tune it to Fix Radio, and we can guarantee you'll be everyone's favourite builder. 

Have you got any gadgets you can live without? We'd to love to hear about them!
Text our studio with the word FIX plus your message to 81400 or tweet us at @FixRadioUK.
Fix radio is 'nailing it' with banter, 48hr no music repeat and half the adverts!
Trending Stories