Plumbers and heating engineers need to invest in training to stay ahead of the curve
Posted: Thursday, November 25th, 2021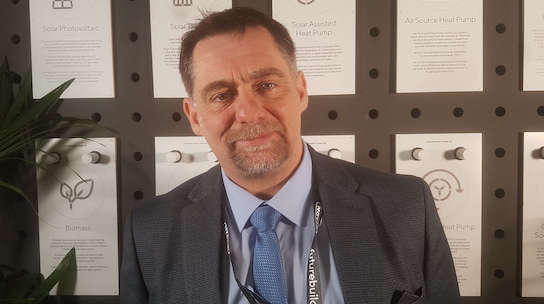 Plumbers and heating engineers need to invest in their own training ahead of the country's migration to low-carbon heating systems.
Since June the UK government has banned the implementation of gas boilers in new builds from 2025, issued a huge target for heat pump installations and outlined a limited hydrogen gas network.
But with plans in the earliest stages installers have been left with more questions than answers.
Appearing on last week's edition of The Heating & Plumbing Show with Andy Cam, plumbing heating lecturer, consultant and host of the BetaTalk Renewable Energy Podcast, Nathan Gambling, urged plumbers to invest in their own training and development.
"You don't become a premiership footballer by going on a two week bootcamp every summer. You have to train every day, day-in, day-out", explained Gambling.
"For the engineers that want to get really good, they have to invest their own time and learning. There are no boiler training courses about hydrogen. But good engineers know there is lots of talk about heat loss and learning about flow rates, delta Ts and this sort of stuff," he explained.
With the government's plans for a hydrogen grid in early development, there is understandably more focus on an immediate low carbon heating alternative – air source heat pumps. But achieving the government's objective of installing 600,000 units a year by 2028 is viewed by many experts as 'challenging'.
Speaking on The Clive Holland Show at the end of October, Adam Chapman of Heat Geek warned that there was no easy route to successful heat pump installations. Rather, the country's road to embrace heat pumps would be riven with potholes.
While the government's GBP£5,000 heat pump subsidy scheme is likely to ignite enthusiasm in low-carbon heating systems, Chapman warned there "will be a lot of issues" specially with "mis-selling" of heat pump heating systems.
With the government already allocating nearly GBP£500 million in heat pump subsidiaries, Gambling predicted bigger and bigger firms would move into the market, looking to maximise sales. "This scares a lot engineers, rightly so. We've had big companies come in and they just want to make money. They get in and they get out," said Gambling.
This is not a simple case of swapping out gas boilers and sticking in a heat pump. Both Chapman and Gambling stressed the importance of about hydronic system design if heat pumps are to deliver on their potential.
Installers need to know "system design, hydronic separations, max flow rate. All the things that we used to know in our industry, 40, 50, 60 years ago but has long forgotten," said Chapman.
"When it comes to heat pumps… you need to learn how to better size radiators for better delta Ts, not delta 250, but going down delta 220 or 230. How best to pipe that, and what velocity is – how to size pipe work. The best thing an installer can do is learn hydronic design," he explained.
Trending Stories
Comments
Add a comment
Log in
to the club or enter your details below.