Omicron variant throws up major staffing challenges for UK builders
Posted: Friday, January 14th, 2022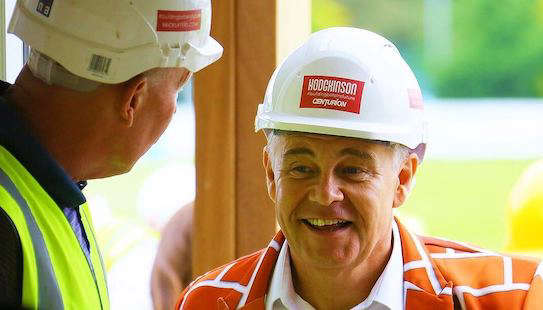 COVID continues to throw up major challenges for UK builders. Appearing on The Clive Holland Show this week, Ian Hodgkinson, director of Hodgkinson Builders, warned that Omicron variant was creating a 'chaotic' situation onsite.
"We have labour shortages at the moment, so it is all hands-on deck," said the bricklayer and builder.
Contractors dropping out at the last minute due to COVID has created significant project management headaches.
"There is a lot of chaos out there with people not turning up unfortunately. For example, if the plumber doesn't turn up and finish his bit, the kitchen fitter can't finish, and the tiler can't finish. There is a knock-on effect. It can be very confusing trying to reprogramme everything. These are challenging times," said Hodgkinson.
Despite the Omicron variant, Hodgkinson Builders' was "paddling like mad", behind the scenes to meet delivery deadlines.
"We have to make sure one way or the other that these houses are ready for people to move in. We've not failed yet to be fair, but it is a challenge," said Hodgkinson.
Hodgkinson Builders has implemented COVID protocols across its sites and office locations, including taking temperatures onsite, installing sanitation stations and where possible making lateral flow tests available.
The firm has stopped short of mandating staff and subcontractors get 'jabbed' before coming to work.
"If you're coming on site, please be respectful of other people, have a temperature test, declare you're COVID free on that particular day. If you are not then please stay away because we don't want the site infected," said Hodgkinson.
For the full story click below.
Trending Stories
Comments
Add a comment
Log in
to the club or enter your details below.