London thieves snatch £17.5 million worth of tools in 2020
Posted: Thursday, August 26th, 2021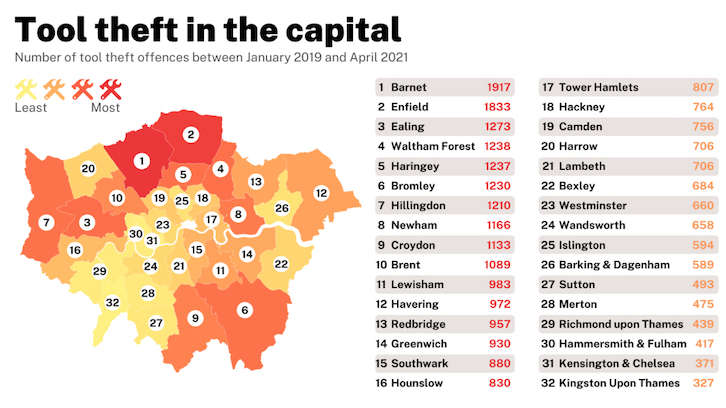 Crime stats from the Metropolitan Police show that GBP£17.5 million worth of tools were taken last year. Although the figure was an improvement on the 2019 total, crooks still managed to swipe on average £57,000 worth of tools every day in 2020.
Between 2019 and 2020, £38.2 million worth of tools were taken in the capital.
In total, between 2019 and April 2021, there were 28,338 reported incidents of tool theft, and 32,067 powered hand tools taken across the capital.
The data, which was acquired by Herts Tools as part of a freedom of information request, showed that just 1% of powered hand tools were recovered by the police.
Stats for the first four months of 2021 indicate tool theft could at least match if not exceed last year's total.
The average cost of tool theft so far is £1.46 million per month – and that is before the winter months when incidents of tool theft typically increase.
Thefts were the highest in the neighbouring North London boroughs of Barnet and Enfield, swiftly followed by Ealing, Waltham Forest and Haringey.
Barnet accounted for nearly 15% of the total figure.
The boroughs in the South West of London generally reported less tool theft. Kingston upon Thames, Kensington and Chelsea, Hammersmith and Fulham had the lowest level of reported tool theft, followed by Richmond up Thames and Merton.
Earlier research by Direct Line for Business indicated £83 million worth of tools had been stolen across the country between 2018 and 2020.
Trending Stories
Comments
Add a comment
Log in
to the club or enter your details below.