Fix Radio reveals winners of Tradesperson of the Year event
Posted: Thursday, May 5th, 2022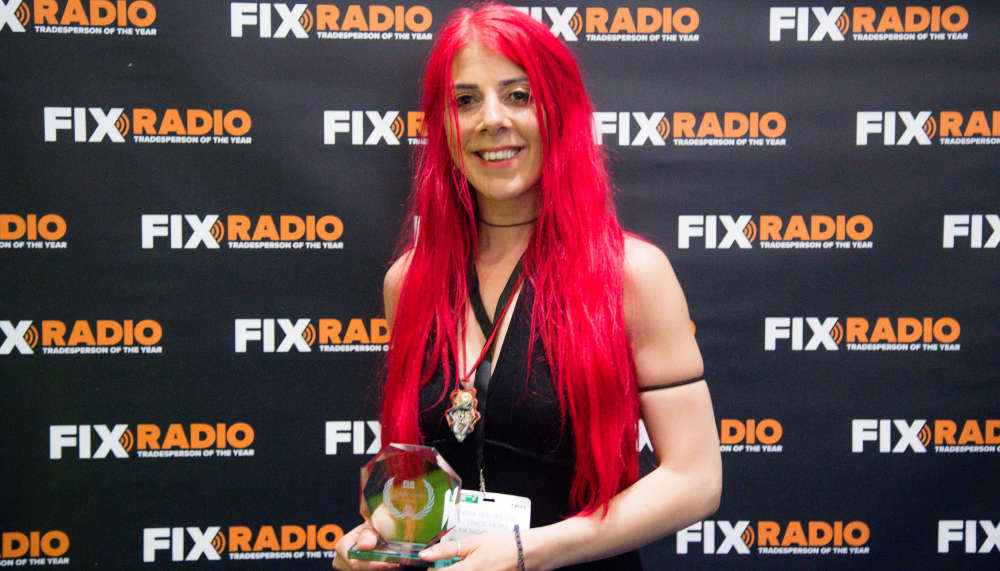 Fix Radio has announced the winners of the second Tradesperson of the Year of Awards, held on Wednesday evening.
Naima Ben-Moussa took home the Trade Hero of the Year Award at the end of the evening. The plasterer has been winning pundits for the last 18 months for her work supporting survivors of domestic abuse.
After being inspired to create a safe environment for one survivor of domestic abuse Ben Moussa set-up Rebuilding Lives a charity that transforms the homes and lives of other survivors.
Scaffolder Martyn Coles won the Highly Commended in the same category for his work to get colleague Todd Scanlon, who has Down Syndrome, into college.
The Trade Hero of the Year category was sponsored by Etag.
The event, which was held at the end of the day at UK Construction Week in London, brought together shortlisted nominees from this year's awards at a brief ceremony.
In total, Fix Radio gave away ten awards covering the key building trades.
"This year's shortlisted nominees showcased the best of the UK's trades – the winners have displayed an excellent portfolio of work that proves that UK tradespeople are the best in the world," said Greg Wilson, head of content for Fix Radio.
"Congratulations to all our winners, and our highly commend tradespeople. Everybody who made the shortlist was a winner in our eyes," he added.
Here is a full list of this year's winners.
Apprentice of the Year
Winner
Kye Belmont
Highly Commended
Zachary Anderson
Bricklayer of the Year
Winner
James Naughton
Highly Commended
Kevin Lodge Dawrant
Carpenter & Joiner of the Year
Winner
Alex 'the Valley Viking' Burman
Highly Commended
Sammy Smith
Electrician of the Year Sponsor
Winner
Laurence Lane
Highly Commended
Kieran Randell
Painter & Decorator of the Year
Winner
Liam Gent
Highly Commended
Andrew Clark
Plasterer of the Year
Winner
Richard Wellfair
Highly Commended
Marcus Moore
Plumber & Heating Engineer of the Year
Winner
Dan Tempest
Highly Commended
Andrew Christopher
Roofer of the Year
Winner
Danny Madden
Highly Commended
Bill Westcott
Stonemason of the Year
Winner
Aaron Lumsdon
Highly Commended
Robin Rood
Trade Hero of the Year
Winner
Naima Ben-Moussa
Highly Commended
Martyn Coles
Trending Stories
Comments
Add a comment
Log in
to the club or enter your details below.