Diamondback's Connor Crook outlines plans for product expansion in Carpentry Show interview
Posted: Wednesday, October 13th, 2021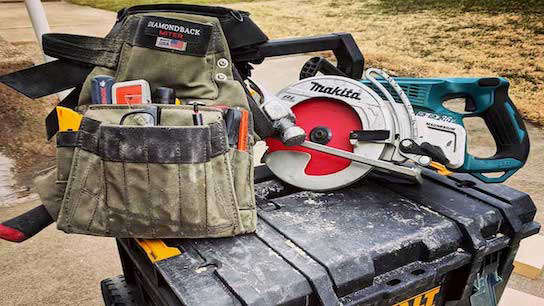 Since taking over cult tool belt manufacturer
Diamondback
in 2016, Connor Crook has taken the brand to new heights. In five years, he has grown the product range, expanded production capacity and crafted a powerful aspirational brand through clever use of
social media
. On the eve of Diamondback's move into workwear, company president, Crook spoke with Robin Clevett, host of
The Carpentry Show
on Fix Radio
Robin Clevett: How did buying Diamondback come about?
Connor Crook: I was a miserable lawyer. If you talk to a lawyer, you will find that most of them are drunk, divorced, and depressed.
I was trying to find something else to do, and I have a friend who is in the tool industry and was trying to purchase [a company], who is [now] one of our competitors. I got involved in that process a little bit. That deal fell through and then we found Diamondback was for sale. I asked my wife and she said, 'Yes, do it – maybe you'll stop being so miserable!'
I had a buddy who had just retired from an investment company, and he offered to loan me the money. That was really it.
Clevett: How has the company expanded since you've taken it over?
Crook: There were two of us at the beginning. There are now 16 or 17 of us at the company. None of that is manufacturing, we do all our manufacturing through third party contractors in the United States.
We have developed on the product side from about eight pouches and three belts. The pouches weren't very well distinguished, so one of the first things that we did was figure out ways to distinguish the pouches more, make them bigger, add features to them, so there is a broader spectrum among the eight or ten standard pouches.
I spent probably two years designing accessories.The idea of Diamondback is that is a modular, customisable system. People have a belt and two pouches, and maybe a couple accessories they use all the time, like a hammer holster. But they want to be able to switch out from day-to-day, job-to-job what accessories they are using with their belt.
We spent two years designing accessories [and] two years designing the vest which has become one of our premium products.
The sales of our tool vest have taken off in Europe and Asia, much more than in North America.
We now have an apparel designer and a hard goods designer. We will have our first workwear release later this year, as well as our hard goods storage line for vehicles and site. We are expanding our tool bag offering down the road.
Clevett: Was it part of the strategy to market Diamondback tool belts to industries other than carpenters?
Crook: We are constantly trying to develop products for different trades outside carpentry.
Most of the belts were designed around carpentry. There was one electrician's pouch, and I didn't like it. We wanted a better electricians' product. Our Nico pouch [is] one of the great examples of where we were able to design things with social interaction.
I had some ideas; I threw them out there and I was getting comments from people. I found two or three guys that were giving me the most consistent feedback, so I reach[ed] out. They told me what I needed to do; I made a prototype, I got it to a manufacturer who made it into a useable prototype and I [got] it out to them to get feedback, made changes and [got] the product out to the market.
We are working in the electricians market, we're looking to expand into HVAC, heating and air, we're looking to do things specifically for dry wall.
Clevett: What have been the biggest setbacks since taking over?
Crook: Two that pop to mind; [one was with the] Denali system, which is one of our biggest sellers, especially here in North America. We had partnered with a new manufacturer and planned this big release. We had talked about it for months and when the product came in, we opened the box and we thought 'we just can't sell this'. There were mistakes, poor quality of workmanship.
I had to get on each of our social media channels to say, 'we screwed up, we can't put this product out.' The great thing was we got nothing but support from our community for biting the bullet and not putting out a substandard product.
Similarly, when COVID hit last year, all our factories shut down. We put up every one-two pouch we had, every odd ball return we had, and we put it up on our website and we sold everything that wasn't nailed down in a day. We blew up the website! We were trying to fix the website all night to keep up with the orders. But that gave us enough cash to get through until production picked back up again in a month or two and we were able to get going again.
The lesson from both of those is; you have setbacks in business, but you have to figure out how to make lemonade when that happens. You have to get through it, or better yet, turn it to your advantage by letting the world know, and being up front about fixing it.
Trending Stories
Comments
Add a comment
Log in
to the club or enter your details below.