WEATHER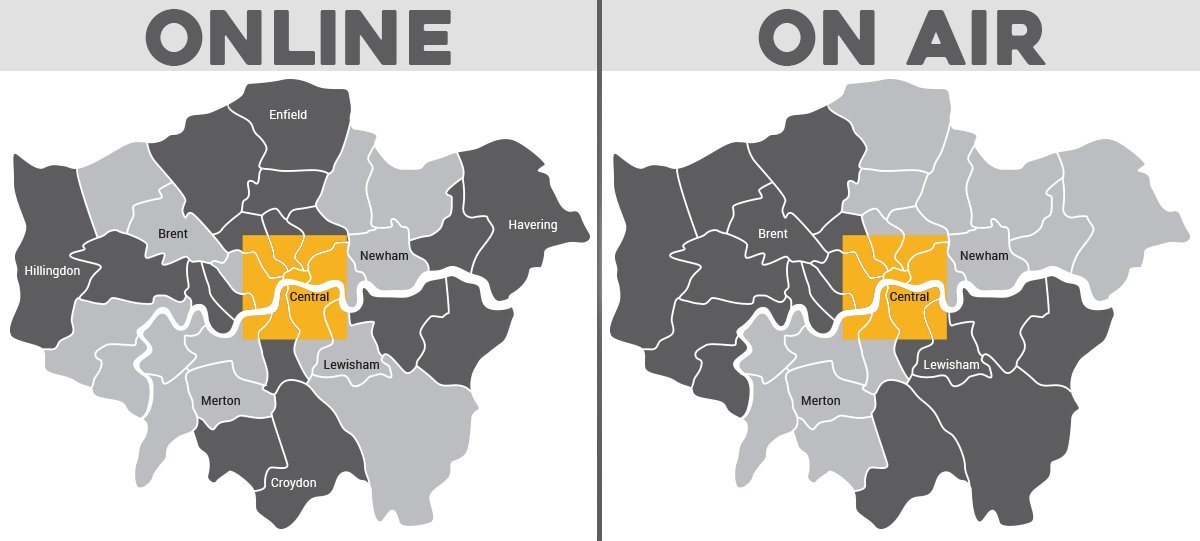 Fix Radio Studio
Medium-level cloud

High: 25°C
Low: 15°C

Medium-level cloud

High: 20°C
Low: 13°C

Medium-level cloud

High: 19°C
Low: 15°C

Low-level cloud

High: 22°C
Low: 16°C

Sunny intervals

High: 26°C
Low: 16°C
London
Medium-level cloud

High: 24°C
Low: 15°C

Medium-level cloud

High: 20°C
Low: 13°C

Medium-level cloud

High: 19°C
Low: 15°C

Low-level cloud

High: 22°C
Low: 16°C

Sunny intervals

High: 26°C
Low: 16°C
Manchester
Light rain

High: 17°C
Low: 13°C

Medium-level cloud

High: 16°C
Low: 13°C

Light rain

High: 16°C
Low: 14°C

Low-level cloud

High: 19°C
Low: 13°C

Medium-level cloud

High: 21°C
Low: 14°C
Liverpool
Medium-level cloud

High: 17°C
Low: 14°C

Medium-level cloud

High: 15°C
Low: 13°C

Light rain

High: 15°C
Low: 14°C

Medium-level cloud

High: 18°C
Low: 15°C

Medium-level cloud

High: 19°C
Low: 15°C
Birmingham
Light rain

High: 19°C
Low: 13°C

Medium-level cloud

High: 17°C
Low: 12°C

Low-level cloud

High: 17°C
Low: 13°C

Low-level cloud

High: 21°C
Low: 13°C

Sunny intervals

High: 23°C
Low: 13°C
Leeds
Light rain

High: 18°C
Low: 12°C

Medium-level cloud

High: 17°C
Low: 12°C

Medium-level cloud

High: 17°C
Low: 13°C

Medium-level cloud

High: 21°C
Low: 13°C

Sunny intervals

High: 22°C
Low: 14°C
Newcastle
Medium-level cloud

High: 18°C
Low: 10°C

Light rain

High: 14°C
Low: 12°C

Light rain

High: 17°C
Low: 14°C

Medium-level cloud

High: 21°C
Low: 14°C

Light rain

High: 19°C
Low: 12°C
Southampton
Light rain shower

High: 23°C
Low: 15°C

Medium-level cloud

High: 20°C
Low: 13°C

Low-level cloud

High: 19°C
Low: 14°C

Medium-level cloud

High: 22°C
Low: 15°C

Sunny

High: 21°C
Low: 14°C
Exeter
Medium-level cloud

High: 21°C
Low: 14°C

Medium-level cloud

High: 19°C
Low: 14°C

Medium-level cloud

High: 19°C
Low: 14°C

Medium-level cloud

High: 22°C
Low: 14°C

Sunny intervals

High: 23°C
Low: 13°C
Cardiff
Light rain

High: 19°C
Low: 14°C

Medium-level cloud

High: 19°C
Low: 14°C

Medium-level cloud

High: 18°C
Low: 14°C

Medium-level cloud

High: 20°C
Low: 15°C

Sunny intervals

High: 20°C
Low: 15°C
Edinburgh
Medium-level cloud

High: 18°C
Low: 11°C

Medium-level cloud

High: 17°C
Low: 12°C

Medium-level cloud

High: 17°C
Low: 12°C

Medium-level cloud

High: 20°C
Low: 14°C

Medium-level cloud

High: 19°C
Low: 12°C
Data is provided by the Met Office
Can't find your site?
Send us an e-mail at sales@fixradio.co.uk and we'll add it to our list!
The Carpentry Show

6:00pm - 7:00pm

Join Clive Holland for all the latest from the world of woodwork!

Fix Music Marathon

7:00pm - 10:00pm

Working late? We've got you covered with our Classic Fix Mix!