WEATHER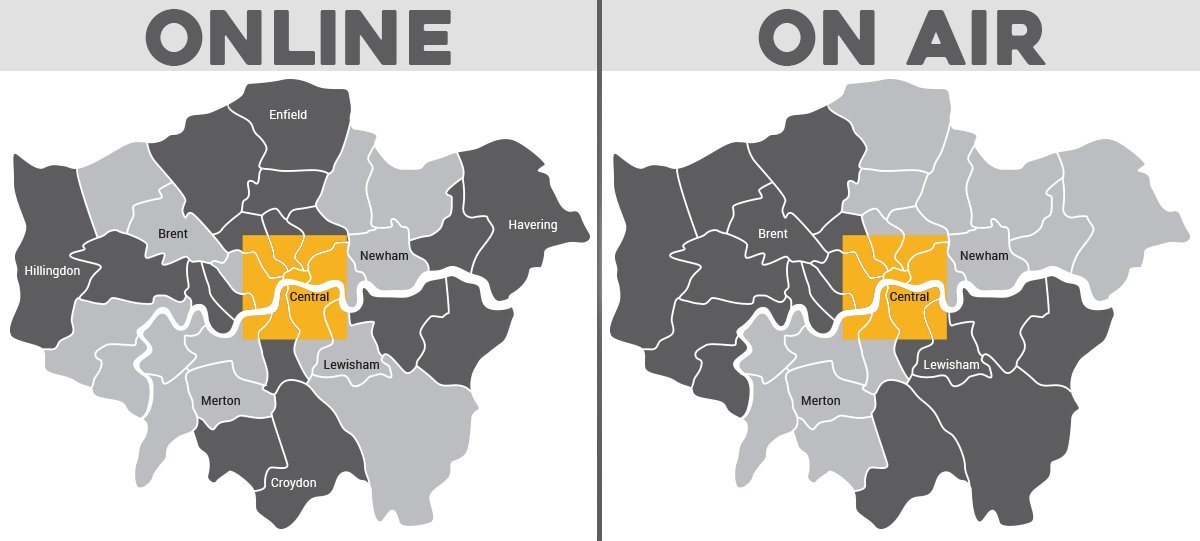 Fix Radio Studio
Medium-level cloud

High: 18°C
Low: 12°C

Light rain

High: 17°C
Low: 11°C

Sunny intervals

High: 15°C
Low: 9°C

Light rain

High: 13°C
Low: 9°C

Light rain shower

High: 13°C
Low: 9°C
London
Medium-level cloud

High: 18°C
Low: 12°C

Light rain

High: 17°C
Low: 11°C

Sunny intervals

High: 15°C
Low: 9°C

Light rain

High: 13°C
Low: 9°C

Light rain shower

High: 13°C
Low: 9°C
Manchester
Sunny

High: 16°C
Low: 10°C

Heavy Rain

High: 13°C
Low: 9°C

Sunny intervals

High: 12°C
Low: 7°C

Medium-level cloud

High: 13°C
Low: 8°C

Light rain shower

High: 13°C
Low: 8°C
Liverpool
Sunny

High: 15°C
Low: 10°C

Light rain

High: 13°C
Low: 11°C

Sunny intervals

High: 13°C
Low: 9°C

Medium-level cloud

High: 13°C
Low: 9°C

Medium-level cloud

High: 13°C
Low: 10°C
Birmingham
Sunny

High: 16°C
Low: 10°C

Heavy Rain

High: 14°C
Low: 8°C

Sunny intervals

High: 13°C
Low: 7°C

Light rain

High: 11°C
Low: 7°C

Medium-level cloud

High: 12°C
Low: 7°C
Leeds
Sunny

High: 16°C
Low: 9°C

Heavy Rain

High: 13°C
Low: 9°C

Medium-level cloud

High: 13°C
Low: 6°C

Medium-level cloud

High: 13°C
Low: 9°C

Light rain

High: 13°C
Low: 8°C
Newcastle
Sunny

High: 14°C
Low: 12°C

Heavy Rain

High: 15°C
Low: 5°C

Sunny intervals

High: 12°C
Low: 7°C

Sunny intervals

High: 12°C
Low: 7°C

Medium-level cloud

High: 12°C
Low: 8°C
Southampton
Medium-level cloud

High: 19°C
Low: 12°C

Heavy Rain

High: 16°C
Low: 11°C

Medium-level cloud

High: 14°C
Low: 9°C

Heavy rain shower

High: 13°C
Low: 9°C

Medium-level cloud

High: 14°C
Low: 9°C
Exeter
Medium-level cloud

High: 18°C
Low: 10°C

Heavy Rain

High: 16°C
Low: 8°C

Light rain shower

High: 14°C
Low: 8°C

Heavy rain shower

High: 12°C
Low: 9°C

Light rain shower

High: 14°C
Low: 8°C
Cardiff
Sunny

High: 17°C
Low: 11°C

Thunder storm

High: 15°C
Low: 10°C

Medium-level cloud

High: 14°C
Low: 9°C

Light rain shower

High: 12°C
Low: 9°C

Light rain shower

High: 14°C
Low: 9°C
Edinburgh
Sunny

High: 14°C
Low: 9°C

Light rain

High: 13°C
Low: 8°C

Medium-level cloud

High: 12°C
Low: 5°C

Medium-level cloud

High: 12°C
Low: 7°C

Light rain

High: 12°C
Low: 9°C
Data is provided by the Met Office
Can't find your site?
Send us an e-mail at sales@fixradio.co.uk and we'll add it to our list!
Fix Radio at Breakfast with Tony Dibbin

7:00am - 10:00am

Smash breakfast and the journey to site with the biggest songs and banter. Play Tony's Morning Hard One at 8:20am and the Retro Year at 9:00am.

Mornings with Jack Edwards

10:00am - 1:00pm

Smash the morning workload with the biggest Anthems and Throwbacks. The Throwback Threesome at midday.