The Fix 500 - The Results are in!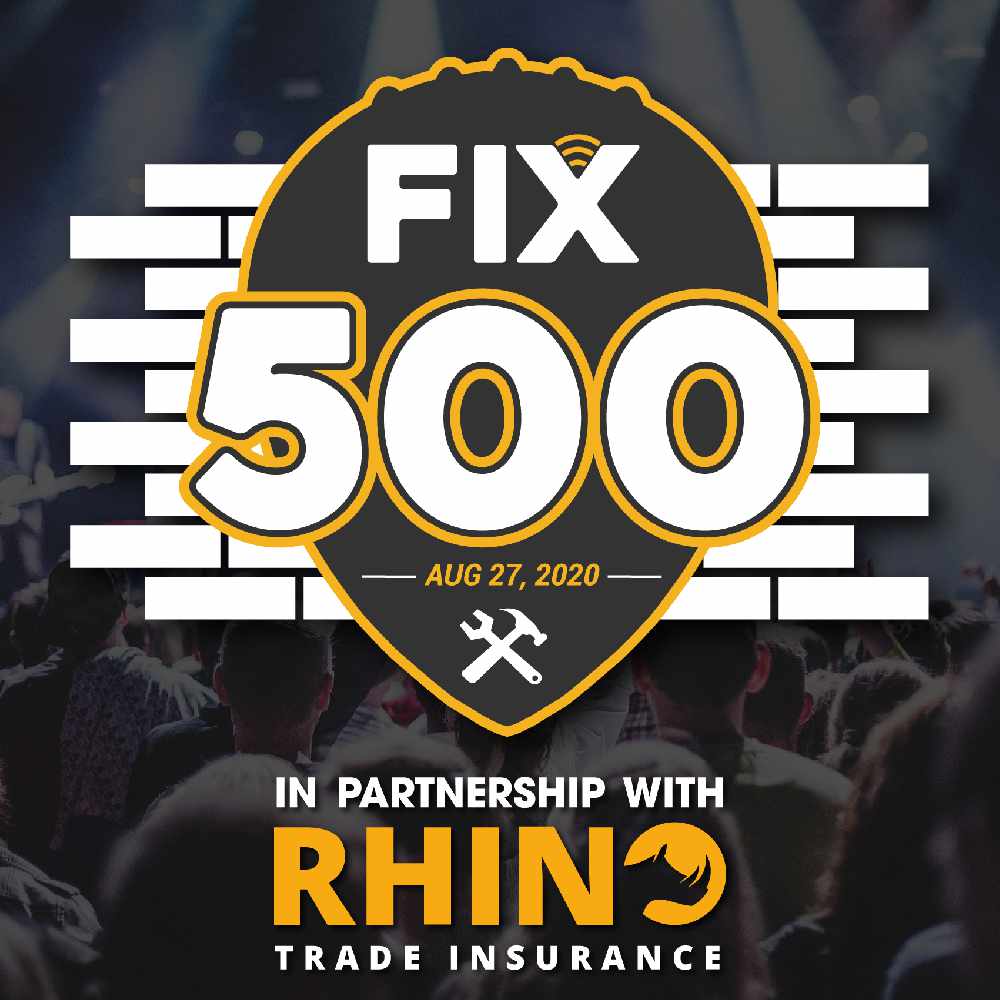 Here at Fix Radio we take our music very seriously.
We recently asked you to tell us the top songs to work to on site and over 600 people sent in their nominations! With everything from Queen to Adele these 500 songs are officially Britain's favourites to work to on site!
Did your favourite song make the list?
Find out below with the the full Fix 500!
| Ranking | Song Name | Artist |
| --- | --- | --- |
| 500 | Start Me Up | Rolling Stones |
| 499 | By The Way | Red Hot Chilli Peppers |
| 498 | West End Girls | Pet Shop Boys |
| 497 | Ibiza | Mike Posner |
| 496 | The Life Of Riley | Lightning Seeds |
| 495 | Hush | Kula Shaka |
| 494 | We Don't Have To Take Our Clothes Off | Jermaine Stewart |
| 493 | Space Cowboy | Jamiroquai |
| 492 | Bang Bang | Green Day |
| 491 | Always The Last To Know | Del Amitri |
| 490 | Shout | Tears For Fears |
| 489 | Chandelier | Sia |
| 488 | Purple Haze | Jimi Hendrix |
| 487 | Set Fire To The Rain | Adele |
| 486 | I Will Always Love You | Whitney Houston |
| 485 | Hitchin' A Ride | Green Day |
| 484 | The Boys Are Back In Town | Thin Lizzy |
| 483 | Rockin' All Over The World | Status Quo |
| 482 | Sex Pistols - Anarchy In The U.k. | Sex Pistols |
| 481 | Sittin' On The Dock Of The Bay | Otis Redding |
| 480 | Lovely Day | Bill Withers |
| 479 | A Good Heart | Feargal Sharkey |
| 478 | Brick House | Commodores |
| 477 | Why Does It Always Rain On Me? | Travis |
| 476 | Crazy | Gnarls Barkley |
| 475 | Castles | Freya Ridings |
| 474 | 1 - 2 - 3 | Gloria Estefan |
| 473 | Troublemaker | Olly Murs |
| 472 | The Lazy Song | Bruno Mars |
| 471 | Can't Stand Me Now | The Libertines |
| 470 | Black Velvet | Alannah Myles |
| 469 | Ain't No Stoppin' Us Now | Mcfadden & Whitehead |
| 468 | My Girl | Madness |
| 467 | Baby Jane | Rod Stewart |
| 466 | Angel Eyes (Home And Away) | Wet Wet Wet |
| 465 | Bed Of Roses | Bon Jovi |
| 464 | We Have All The Time In The World | Louis Armstrong |
| 463 | Rock DJ | Robbie Williams |
| 462 | She's Electric | Oasis |
| 461 | Bad Medicine | Bon Jovi |
| 460 | 2-4-6-8 Motorway | Tom Robinson |
| 459 | Chemistry | Semisonic |
| 458 | La La La | Naughty Boy |
| 457 | Hysteria | Muse |
| 456 | Lalala | Y2k |
| 455 | Perfect | Ed Sheeran |
| 454 | How Deep Is Your Love | Bee Gees |
| 453 | Right Here | Swv |
| 452 | Going Home - Theme From Local Hero | Mark Knopfler |
| 451 | I'm Not In Love | 10cc |
| 450 | Monkey Wrench | Foo Fighters |
| 449 | Back 2 Life | Soul Ii Soul |
| 448 | Basket Case | Green Day |
| 447 | It Must Be Love | Madness |
| 446 | Atomic | Blondie |
| 445 | I Say A Little Prayer | Aretha Franklin |
| 444 | Use Somebody | Kings Of Leon |
| 443 | Whats The Story Morning Glory | Oasis |
| 442 | I Will Wait | Mumford & Sons |
| 441 | Spinning Around | Kylie Minogue |
| 440 | Sweet Home Alabama | Lynyrd Skynyrd |
| 439 | Take On Me | A-ha |
| 438 | Greece (feat. Drake) | Dj Khaled |
| 437 | Feeling Good | Muse |
| 436 | Vogue (single Version) | Madonna |
| 435 | Spectrum (say My Name) | Florence And The Machine |
| 434 | Human | Rag N Bone Man |
| 433 | Living For The Weekend | Hard-fi |
| 432 | Walk Idiot Walk | The Hives |
| 431 | It Wasn't Me | Shaggy Feat Ricardo Rikrok Ducent |
| 430 | Absolute Beginners | David Bowie |
| 429 | Leave A Light On | Tom Walker |
| 428 | I Can't Go For That (no Can Do) | Daryl Hall & John Oates |
| 427 | Hey Joe | Jimi Hendrix |
| 426 | Common People | Pulp |
| 425 | All Right Now | Free |
| 424 | Dreadlock Holiday | 10cc |
| 423 | The Drugs Don't Work | The Verve |
| 422 | Get The Party Started | Pink |
| 421 | Things Can Only Get Better | D:ream |
| 420 | What's Love Got To Do With It | Tina Turner |
| 419 | Porcelain | Moby |
| 418 | Modern Love | David Bowie |
| 417 | Lets Go Round Again | Average White Band |
| 416 | Finally | Ce Ce Peniston |
| 415 | Let Your Love Flow | Bellamy Brothers |
| 414 | Carry On Wayward Son | Kansas |
| 413 | A Design For Life | Manic Street Preachers |
| 412 | She Said | Plan B |
| 411 | Made Of Stone | The Stone Roses |
| 410 | Money | Pink Floyd |
| 409 | I Feel Love | Donna Summer |
| 408 | Ymca | Village People |
| 407 | New Shoes | Paolo Nutini |
| 406 | Lithium | Nirvana |
| 405 | The Impression That I Get | The Mighty Mighty Bosstones |
| 404 | The Middle | Jimmy Eat World |
| 403 | Wouldn't It Be Nice | The Beach Boys |
| 402 | Grace Under Pressure | Elbow |
| 401 | Chelsea Dagger | The Fratellis |
| 400 | Hideaway | De'lacy |
| 399 | The Best | Tina Turner |
| 398 | Manic Monday | Bangles |
| 397 | Sick Boy | The Chainsmokers |
| 396 | I Am The Resurrection | The Stone Roses |
| 395 | A Day In The Life | The Beatles |
| 394 | Gold | Spandau Ballet |
| 393 | Sheila | Jamie T |
| 392 | What's Up? | 4 Non Blondes |
| 391 | Horse With No Name | America |
| 390 | Spellbound | Siouxsie & The Banshees |
| 389 | Happy Hour | The Housemartins |
| 388 | The Message | Grandmaster Flash |
| 387 | Club Tropicana | Wham! |
| 386 | New Model No. 15 | Marilyn Manson |
| 385 | Ride On Time | Black Box |
| 384 | Sweet Talking Woman | Elo |
| 383 | You Can't Touch This | Mc Hammer |
| 382 | Sweet Emotion | Aerosmith |
| 381 | Love Of My Life | Queen |
| 380 | Love Really Hurts Without You | Billy Ocean |
| 379 | Little Lion Man | Mumford & Sons |
| 378 | Regulate | Warren G |
| 377 | No Diggity | Blackstreet |
| 376 | Tainted Love | Soft Cell |
| 375 | Show Me Love | Robin S. |
| 374 | Get Down Saturday Night | Oliver Cheatham |
| 373 | Mountain At My Gates | Foals |
| 372 | Waterloo | Abba |
| 371 | Whoomph (there It Is ) | Clock |
| 370 | Witchita Lineman | Glen Campbell |
| 369 | Rebel Yell | Billy Idol |
| 368 | Band On The Run | Paul Mccartney & Wings |
| 367 | Don't Leave Me This Way | Communards |
| 366 | Fools Gold | Stone Roses |
| 365 | Radioactive | Imagine Dragons |
| 364 | Sailing | Rod Stewart |
| 363 | Working Man | Rush |
| 362 | Freed From Desire | Gala |
| 361 | All You Need Is Love | The Beatles |
| 360 | Comfortably Numb | Pink Floyd |
| 359 | Don't Let The Sun Go Down On Me | George Michael And Elton John |
| 358 | The Logical Song | Scooter |
| 357 | Turn It On | Level 42 |
| 356 | Thieves In The Temple | Prince |
| 355 | Play That Funky Music | Wild Cherry |
| 354 | Walk Me Home | Pink |
| 353 | Love Rollercoaster | Red Hot Chili Peppers |
| 352 | The Day We Caught The Train | Ocean Colour Scene |
| 351 | Making Your Mind Up | Bucks Fizz |
| 350 | Not Afraid | Eminem |
| 349 | Smooth | Santana / Rob Thomas |
| 348 | Unchained | Van Halen |
| 347 | It's A Sin | Pet Shop Boys |
| 346 | Take Me To The Clouds Above | Lmc Vs U2 |
| 345 | Mull Of Kintyre (with Wings) | Paul McCartney |
| 344 | My Way | Frank Sinatra |
| 343 | I'll Be Missing You | Puff Daddy |
| 342 | Hey Brother | Avicii |
| 341 | Live And Let Die | Guns N' Roses |
| 340 | I Don`t Feel Like Dancin` | Scissor Sisters |
| 339 | Never Too Much | Luther Vandross |
| 338 | What A Wonderful World | Louis Armstrong |
| 337 | Work From Home (feat. Ty Dolla $ign) | Fifth Harmony |
| 336 | Like A Hurricane | Neil Young |
| 335 | One Kiss (feat. Dua Lipa) | Calvin Harris |
| 334 | The Snake | Al Wilson |
| 333 | Hi Ho Silver Lining | Jeff Beck |
| 332 | Let It Be | The Beatles |
| 331 | My Old Man's A Dustman | Lonnie Donegan |
| 330 | We Didn't Start The Fire | Billy Joel |
| 329 | Baker Street | Gerry Rafferty |
| 328 | Sunflower | Paul Weller |
| 327 | Unfinished Sympathy | Massive Attack |
| 326 | Alright | Supergrass |
| 325 | In A Big Country | Big Country |
| 324 | Yes (full Version) | Mcalmont & Butler |
| 323 | Fairground | Simply Red |
| 322 | Mr Loverman | Shabba Ranks |
| 321 | Paradise By The Dashboard Light | Meat Loaf |
| 320 | Elanor Rigby | The Beatles |
| 319 | Freedom (90) | George Michael |
| 318 | 1999 | Prince |
| 317 | I Heard It Through The Grapevine | Marvin Gaye |
| 316 | Hey Boy Hey Girl | The Chemical Brothers |
| 315 | Gimme Shelter | The Rolling Stones |
| 314 | I've Been Thinking About You | London Beat |
| 313 | Sing | Ed Sheeran |
| 312 | Something Got Me Started | Simply Red |
| 311 | Give It Up | Kc & The Sunshine Band |
| 310 | Epic | Faith No More |
| 309 | Love Me Again | John Newman |
| 308 | The Living Years | Mike & The Mechanics |
| 307 | Holiday | Green Day |
| 306 | Ghost Town | The Specials |
| 305 | Something Good '08 | Utah Saints |
| 304 | Rockin' In The Free World | Neil Young |
| 303 | You Can't Always Get What You Want | The Rolling Stones |
| 302 | Crazy Train | Ozzy Osbourne |
| 301 | Driving In My Car | Madness |
| 300 | China Girl | David Bowie |
| 299 | The Only Thing That Looks Good On Me Is You | Bryan Adams |
| 298 | I Found Lovin' | Fatback Band |
| 297 | Pump Up The Volume | Marrs |
| 296 | So Far Away | Dire Straits |
| 295 | Yellow | Coldplay |
| 294 | Here Comes The Sun | The Beatles |
| 293 | You Give Love A Bad Name | Bon Jovi |
| 292 | Old Town Road (feat. Billy Ray Cyrus) (remix) | Lil Nas X |
| 291 | Lessons In Love | Level 42 |
| 290 | Take It Easy | Eagles |
| 289 | Heathens | Twenty One Pilots |
| 288 | The Man | The Killers |
| 287 | Talk Tonight | Oasis |
| 286 | Better Off Alone Dj Jurgen Remix | Alice Deejay |
| 285 | Honey Sweet | Blossoms |
| 284 | Despacito | Luis Fonsi Featuring Justin Bieber |
| 283 | Suddenly I See | Kt Tunstall |
| 282 | Girls And Boys | Blur |
| 281 | Mr Jones | Counting Crows |
| 280 | Let's Dance | David Bowie |
| 279 | Learning To Fly | Tom Petty |
| 278 | All These Things That I've Done | The Killers |
| 277 | The River | Bruce Springsteen |
| 276 | No Good (start The Dance) (edi | The Prodigy |
| 275 | Welcome To The Jungle | Guns N' Roses |
| 274 | Silver Machine | Hawkwind |
| 273 | Shake It Off | Taylor Swift |
| 272 | I'm On Fire | Bruce Springsteen |
| 271 | The Final Countdown | Europe |
| 270 | Dive | Nirvana |
| 269 | Whereever You Will Go | The Calling |
| 268 | Up On The Roof | Drifters, The |
| 267 | Drive | The Cars |
| 266 | Human | The Killers |
| 265 | This Girl | Kungs Vs. Cookin' On 3 Burners |
| 264 | Rio | Duran Duran |
| 263 | Skin | Beth Hart |
| 262 | The Sound Of Silence | Simon And Garfunkel |
| 261 | When I Come Around | Green Day |
| 260 | Burning Love | Elvis Presley |
| 259 | Wake Me Up Before You Go-go | Wham! |
| 258 | You Got The Love | Candi Staton |
| 257 | Turn It On Again | Genesis |
| 256 | Stumblin' In | Suzi Quatro & Chris Norman |
| 255 | That Sound | Sam Fender |
| 254 | Live It Up | Mental As Anything |
| 253 | Here Come The Hot Stepper | Ima Kamoze |
| 252 | Knocking On Heaven's Door | Guns N' Roses |
| 251 | You Shook Me All Night Long | AC/DC |
| 250 | American Pie | Don Mclean |
| 249 | Great Balls Of Fire | Jerry Lee Lewis |
| 248 | Ride It | Regard |
| 247 | Killing Me Softly With His Song (radio Edit) | Fugees |
| 246 | Lovefool | Cardigans |
| 245 | I Want Your Love | Chic |
| 244 | What About Love | Heart |
| 243 | Don't Turn Around | Aswad |
| 242 | Wait For You | Tom Walker |
| 241 | Zombie | The Cranberries |
| 240 | What About Us | P!nk |
| 239 | Never Gonna Give You Up | Rick Astley |
| 238 | She's The One | Robbie Willams |
| 237 | Children | Robert Miles |
| 236 | Pulling Mussels (from The Shell) | Squeeze |
| 235 | Light My Fire | The Doors |
| 234 | Fire Walk With Me | The Black Keys |
| 233 | Little Red Rooster | The Rolling Stones |
| 232 | She Sells Sanctuary | The Cult |
| 231 | Everything Now | Arcade Fire |
| 230 | Go Crazy | Chris Brown & Young Thug |
| 229 | Sunchyme | Dario G |
| 228 | Seven Seas Of Rhye | Queen |
| 227 | I Just Called To Say I Love You | Stevie Wonder |
| 226 | Wuthering Heights | Kate Bush |
| 225 | Kingston Town | Ub40 |
| 224 | Love Spreads | The Stone Roses |
| 223 | Own It | Stormzy Ft. Ed Sheeran & Burna Boy |
| 222 | Super Trouper | Abba |
| 221 | Golden Brown | The Stranglers |
| 220 | Don't Call Me Baby | Madison Avenue |
| 219 | Ace Of Spades | Motörhead |
| 218 | T-shirt Weather | Circa Waves |
| 217 | Step On | Happy Mondays |
| 216 | Paranoid Android | Radiohead |
| 215 | Fast Car | Tracy Chapman |
| 214 | There's No Other Way | Blur |
| 213 | Strawberry Fields Forever | The Beatles |
| 212 | Someone You Loved (future Humans Remix) | Lewis Capaldi |
| 211 | Where The Streets Have No Name | U2 |
| 210 | Two Tribes | Frankie Goes To Hollywood |
| 209 | Fat Bottomed Girls | Queen |
| 208 | Let's Go | Calvin Harris |
| 207 | God's Plan | Drake |
| 206 | Buck Rogers | Feeder |
| 205 | Happy Radio | Edwin Star |
| 204 | Don't Start Now | Dua Lipa |
| 203 | The Show Must Go On | Queen |
| 202 | Back In The Ussr | The Beatles |
| 201 | Nightmare | Halsey |
| 200 | Brown Eyed Girl | Van Morrison |
| 199 | Hit Me With Your Rhythm Stick | Ian Dury & The Blockheads |
| 198 | Demons | Imagine Dragons |
| 197 | Valerie | Amy Winehouse / Mark Ronson |
| 196 | American Idiot | Green Day |
| 195 | The Look Of Love | Abc |
| 194 | You Gotta Fight For Your Right To Party | Beastie Boys |
| 193 | I Can't Get No Satisfaction | Rolling Stones |
| 192 | One Week | Barenaked Ladies |
| 191 | Imagine | John Lennon |
| 190 | I Gotta Feeling | The Black Eyed Peas |
| 189 | Angels | Robbie Williams |
| 188 | Come On Eileen | Dexys Midnight Runners |
| 187 | You Ain`t Seen Nothin` Yet | Bachman Turner Overdrive |
| 186 | Right Here Right Now | Fatboy Slim |
| 185 | I'm Still Standing | Elton John |
| 184 | Sit Down | James |
| 183 | Like A Rolling Stone | Bob Dylan |
| 182 | Its Not Unusual | Tom Jones |
| 181 | Shine On You Crazy Diamond | Pink Floyd |
| 180 | Dancing On The Ceiling | Lionel Richie |
| 179 | Life On Mars | David Bowie |
| 178 | Counting Stars | One Republic |
| 177 | Castle On The Hill | Ed Sheeran |
| 176 | Gangsta's Paradise | Coolio |
| 175 | A Kind Of Magic | Queen |
| 174 | Insomnia | Faithless |
| 173 | Red, Red Wine | Ub40 |
| 172 | Bitter Sweet Symphony | The Verve |
| 171 | Nothing Compares 2 U | Sinéad O'connor |
| 170 | Money's Too Tight To Mention | Simply Red |
| 169 | Rocket Man | Elton John |
| 168 | Killer Queen | Queen |
| 167 | Electric Avenue | Eddy Grant |
| 166 | Hammer To Fall | Queen |
| 165 | Savage Love (laxed - Siren Beat) | Jawsh 685 X Jason Derulo |
| 164 | Viva La Vida | Coldplay |
| 163 | Broken Stones | Paul Weller |
| 162 | I'm Gonna Be (500 Miles) | The Proclaimers |
| 161 | Numb | Linkin Park |
| 160 | No Woman No Cry | Bob Marley |
| 159 | I Wanna Dance With Somebody | Whitney Houston |
| 158 | Money For Nothing | Dire Straits |
| 157 | Shotgun | George Ezra |
| 156 | Running Up That Hill | Kate Bush |
| 155 | My Name Is (slim Shady Radio Edit) | Eminem |
| 154 | Have A Nice Day | Stereophonics |
| 153 | Radar Love | Golden Earing |
| 152 | Changes | David Bowie |
| 151 | Jump Around | House Of Pain |
| 150 | Hot Stuff | Donna Summer |
| 149 | Paint It Black | Rolling Stones |
| 148 | Go Your Own Way | Fleetwood Mac |
| 147 | Summer Of '69 | Bryan Adams |
| 146 | Fix You | Coldplay |
| 145 | On A Day Like This | Elbow |
| 144 | Sweet Child O' Mine | Guns N' Roses |
| 143 | More Than A Feeling | Boston |
| 142 | Let's Go Crazy | Prince |
| 141 | Heroes | David Bowie |
| 140 | I Predict A Riot | Kaiser Chiefs |
| 139 | Hello | Adele |
| 138 | Beautiful Day | U2 |
| 137 | Crazy Little Thing Called Love | Queen |
| 136 | One Love | Bob Marley & The Wailers |
| 135 | Get Busy | Sean Paul |
| 134 | Moves Like Jagger | Maroon 5 / Christina Aguilera |
| 133 | Relax | Frankie Goes To Hollywood |
| 132 | Forget You | Cee-lo Green |
| 131 | Everyday I Love You Less And Less | Kaiser Chiefs |
| 130 | Everywhere | Fleetwood Mac |
| 129 | Fluorescent Adolescent | Arctic Monkeys |
| 128 | Skyfall | Adele |
| 127 | I Bet That You Look Good On The Dancefloor | Arctic Monkeys |
| 126 | Thinking Out Loud | Ed Sheeran |
| 125 | In The Air Tonight | Phil Collins |
| 124 | Geno | Dexys Midnight Runners |
| 123 | Cooler Than Me | Mike Posner |
| 122 | Grenade | Bruno Mars |
| 121 | The Pretender | Foo Fighters |
| 120 | Year 3000 | Busted |
| 119 | Mardy Bum | Arctic Monkeys |
| 118 | Dog Days Are Over | Florence + The Machine |
| 117 | Yeah! | Usher Feat. Lil Jon & Ludacris |
| 116 | Turn Me On | Kevin Lyttle |
| 115 | Party Rock Anthem | Lmfao |
| 114 | When The Sun Goes Down | Arctic Monkeys |
| 113 | Pompeii | Bastille |
| 112 | Dynamite | Taio Cruz |
| 111 | Sexy And I Know It | Lmfao |
| 110 | Gimmie All Your Lovin | Zz Top |
| 109 | Hungry Like The Wolf | Duran Duran |
| 108 | Billionaire | Travie Mccoy / Bruno Mars |
| 107 | Rehab | Amy Winehouse |
| 106 | Before You Go | Lewis Capaldi |
| 105 | Drinking From The Bottle | Calvin Harris / Tinie Tempah |
| 104 | Galway Girl | Ed Sheeran |
| 103 | All Summer Long | Kid Rock |
| 102 | On Top Of The World | Imagine Dragons |
| 101 | Whiskey In The Jar | Thin Lizzy |
| 100 | Love In An Elevator | Aerosmith |
| 99 | With Or Without You | U2 |
| 98 | Superstition | Stevie Wonder |
| 97 | Rock N Roll Star | Oasis |
| 96 | Under Pressure | Queen / David Bowie |
| 95 | Don't Stop | Fleetwood Mac |
| 94 | Layla | Derek & The Dominoes |
| 93 | Mambo No. 5 (a Little Bit Of...) | Lou Bega |
| 92 | Kiss From A Rose | Seal |
| 91 | Tears Of A Clown | Smokey Robinson / The Miracles |
| 90 | Hey Ya! | Outkast |
| 89 | Titanium (feat. Sia) | David Guetta |
| 88 | Revolution | The Beatles |
| 87 | Africa | Toto |
| 86 | Believe | Cher |
| 85 | Somebody Told Me | The Killers |
| 84 | 7 Days | Craig David |
| 83 | Tubthumping | Chumbawumba |
| 82 | Times Like These | Foo Fighters |
| 81 | Coffee And Tv | Blur |
| 80 | Love Is All Around | Wet Wet Wet |
| 79 | Can We Fix It? | Bob The Builder |
| 78 | Sweet Caroline | Neil Diamond |
| 77 | Evil Woman | Electric Light Orchestra |
| 76 | Nothing's Gonna Stop Us Now | Starship |
| 75 | Back In Black | Acdc |
| 74 | Stairway To Heaven | Led Zeppelin |
| 73 | Where Is The Love? | Black Eyed Peas, The |
| 72 | Highway To Hell | Ac/dc |
| 71 | Firestarter | Prodigy |
| 70 | Pinball Wizard | The Who |
| 69 | Thunderstruck | Ac |
| 68 | Live Forever | Oasis |
| 67 | Country House | Blur |
| 66 | Saturday Night's Alright For Fighting | Elton John |
| 65 | Life In The Fast Lane | Eagles |
| 64 | Sir Duke | Stevie Wonder |
| 63 | Radio Gaga | Queen |
| 62 | Ruby | Kaiser Chiefs |
| 61 | Let Me Entertain You | Robbie Williams |
| 60 | Pride (in The Name Of Love) | U2 |
| 59 | When Doves Cry | Prince |
| 58 | Rock The Casbah | The Clash |
| 57 | Smells Like Teen Spirit | Nirvana |
| 56 | Livin' On A Prayer | Bon Jovi |
| 55 | Going Underground | The Jam |
| 54 | Paradise | Coldplay |
| 53 | Hotel California | Eagles |
| 52 | Little Red Corvette | Prince |
| 51 | Uprising | Muse |
| 50 | Should I Stay Or Should I Go | The Clash |
| 49 | Good Vibrations | The Beach Boys |
| 48 | Crocodile Rock | Elton John |
| 47 | Parklife | Blur |
| 46 | Surfin' Usa | The Beach Boys |
| 45 | Hungry Heart | Bruce Springsteen |
| 44 | Jamming | Bob Marley & The Wailers |
| 43 | Good Enough | Dodgy |
| 42 | Levels | Avicii |
| 41 | Everybody Wants To Rule The World | Tears For Fears |
| 40 | Benny And The Jets | Elton John |
| 39 | Elevation | U2 |
| 38 | Jump | Van Halen |
| 37 | Sex On Fire | Kings Of Leon |
| 36 | Another Brick In The Wall | Pink Floyd |
| 35 | Dance Monkey | Tones And I |
| 34 | Baggy Trousers | Madness |
| 33 | Disco 2000 | Pulp |
| 32 | Born In The U.s.a. | Bruce Springsteen |
| 31 | Don't Stop Believin' | Journey |
| 30 | Down Under | Men At Work |
| 29 | Born To Run | Bruce Springsteen |
| 28 | Hey Jude | The Beatles |
| 27 | We Are The Champions | Queen |
| 26 | Free Bird | Lynyrd Skynyrd |
| 25 | Walking On Sunshine | Katrina & The Waves |
| 24 | The Changing Man | Paul Weller |
| 23 | Chasing Cars | Snow Patrol |
| 22 | The Chain | Fleetwood Mac |
| 21 | Build Me Up Buttercup | The Foundations |
| 20 | Happy | Pharell Williams |
| 19 | Bat Out Of Hell | Meat Loaf |
| 18 | Champagne Supernova | Oasis |
| 17 | We Will Rock You | Queen |
| 16 | Blinding Lights | The Weeknd |
| 15 | Dancing Queen | Abba |
| 14 | Purple Rain | Prince & The Revolution |
| 13 | 9 To 5 | Dolly Parton |
| 12 | Paradise City | Guns N' Roses |
| 11 | We Built This City | Starship |
| 10 | I Want To Break Free | Queen |
| 9 | Our House | Madness |
| 8 | Song 2 | Blur |
| 7 | Mr Brightside | The Killers |
| 6 | Don't Look Back In Anger | Oasis |
| 5 | Uptown Funk | Mark Ronson Feat. Bruno Mars |
| 4 | Wonderwall | Oasis |
| 3 | Don't Stop Me Now | Queen |
| 2 | Mr Blue Sky | Electric Light Orchestra |
| 1 | Bohemian Rhapsody | Queen |