'80 hours a week and then most evenings in the office' - the norm for some builders, research reveals.
Organising, sorting and finding paperwork is one of the top sources of stress within the building trade, according to a new survey of builders and trades people.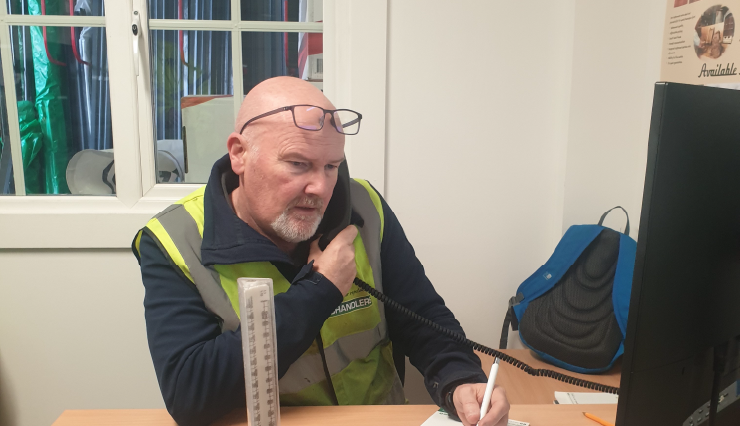 The survey, conducted by Parker and Chandlers Building Supplies among 700 builders, revealed that almost two thirds, or 62 percent, of general builders struggle to keep their paperwork in order.
Almost half of respondents agree that their work vehicle frequently doubles as their office space - with receipts for building materials, bills, statements and invoices collecting on their dashboard.
A further 45 percent of builders do not like doing paperwork with 62 percent revealing that they find it difficult to allocate the time needed to keep their administration/paperwork completely up to date. Less than one fifth say they enjoy doing paperwork or the administration tasks of running their business. Unsurprisingly 70 percent say they prefer 'working on the tools' to doing admin or paperwork.
Paperwork is a job that two thirds of builders say they do 'at the weekends or in the evening', while 17 percent say they would like to be able to do this work 'on the go' or whenever they have a spare moment. Shockingly, one respondent said they work '80 hours a week and then most evenings in the office'. Interestingly only 6 percent of respondents said that they employed the services of someone else to do a lot of their day-to-day admin tasks.
When asked what would make their job easier or less stressful, 80 percent said 'more time', while a third said 'being better organised'.
In response to this Parkers, Fairalls and Chandlers Buildings Supplies have each invested in a new website and 'paperwork portal'. This allows customers to keep all their paper work online, organised by statements, invoices, cost estimates, project plans and projects lists and this is accessible at 24/7.
Allun Pittingdale, MD, Independent Builders Merchant Group said: "It's not surprising that paperwork is one of the least favoured parts of a builders job. This is what prompted the development of the new online platform for customers of Parkers Building Supplies, Chandlers Building Supplies and Fairalls. The aim is to make builders' lives a little easier – it takes away much of the paperwork that consumes so much of their time. It also provides an accessible, organised online dashboard while being able to browse and order products 365 days a year has been hugely welcomed!
"Housed along side the online shop, the feedback from customers so far has been super - it is obviously a very welcome service."
Finally, builders revealed the services that make their job more efficient.
75 percent of respondents said having 'materials delivered to site' made their day-to-day job more efficient, while in joint second place for almost half of all builders was 'getting expert advice on building material options' and 'hiring an extra pair of hands when needed'. Four in ten builders agreed that ordering materials online made their day-to-day easier.
Pittingdale said: "Saving time and reducing stress is key to everyone's well being. We'd like to think this free online service will go some way to supporting our customers in this regard."
Existing trade account holders at Parkers, Chandlers Building Supplies and Fairalls can activate their accounts immediately with a few basic details. Anyone else wishing to open a new trade account can apply online.
www.parkersbs.com or www.chandlerbs.co.uk or www.fairalls.uk