82 per cent of tradespeople have seen their earnings increase following the third UK lockdown, which began in January 2021

More than half (54 per cent) of tradespeople have seen their workloads increase and one in ten are fully booked for the next six months

The average Brit has saved £1,803 since March 2020, with almost half (45 per cent) spending this on home improvements or maintenance since April 2021, fuelling demand for tradespeople's services
28 June 2021 - Over eight in ten (82 per cent) tradespeople have seen an increase in earnings following the most recent UK lockdown beginning in January 2021, according to new research by Direct Line business insurance.1 For many, the windfall has been significant, with a third (33 per cent) seeing their income rise between 11 and 20 per cent.
The financial boost comes as the result of a spike in workloads for tradespeople, with over half (54 per cent) seeing a surge in their volume of jobs. Fourteen per cent said their workload had vastly increased, while 40 per cent said that it had risen somewhat.
Promisingly for some tradespeople, the heightened demand is set to last. One in ten (10 per cent) are fully booked for 6 months and beyond, while nearly one quarter (24 per cent) have a packed schedule for the next 2-3 months.
Tradespeople are feeling optimistic about the future, with three in ten (30 per cent) feeling very positive about the rise in their workloads. With the average tradesperson working an extra 4.2 hours a week, a minority are feeling exhausted. 12 per cent said that they are feeling burned out due to the busy period, even though they feel broadly positive about the rise in their workloads.
What's fuelling the demand?
While many have been hit hard in the pocket by Covid-related economic uncertainty, the average Brit has been able to save £1,803 since March 2020 due to the closure of pubs, restaurants and non-essential retail, as well as bans on international travel.
Nearly half (45 per cent) of those who saved money during the Covid-19 national lockdowns have spent this money on home improvements or maintenance since April 2021. An additional 20 per cent plan to spend on home renovations over the next 12 months, suggesting that there could be further opportunities for tradespeople down the line.
Nearly one in five (18 per cent) have improved the interior of their house or plan to do so, while 14 per cent want to spend/have spent money on the exterior of their property, such as the garden, driveway, fencing or shed.
Norwich, Liverpool and Nottingham were the top three cities for consumer spending on home improvements and maintenance, suggesting that tradespeople in these areas could be particularly busy over the coming months.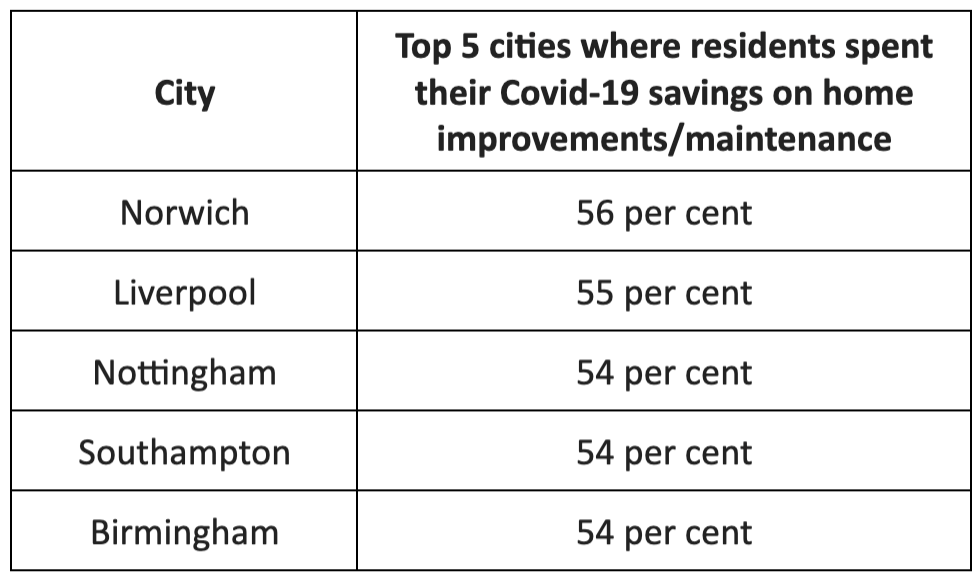 Source: Direct Line Business Insurance, 2021
Investing to adapt
Many tradespeople are taking bold steps to prepare their businesses for this lasting consumer demand.
Nearly four in ten (39 per cent) have invested in new tools or intend to do so, 30 per cent have taken on an apprentice or additional staff or are currently hiring, while almost one quarter (24 per cent) will be investing in a new work vehicle or van.
Worryingly, only 24 per cent of tradespeople have taken out new insurance policies to protect them against the risks such as the growing problem of tool theft. A lack of protection could put their businesses at risk and jeopardise any financial gains from the rise in consumer demand.
Jane Morgan, SME Business Manager at Direct Line business insurance, stated:
"The landscape looks positive for tradespeople, with many seeing workloads and earnings increasing. The heightened demand is clearly set to last, so it's promising to see tradespeople investing in new equipment and hiring new staff so that they can continue to grow."
"It's crucial that tradespeople review their insurance cover as their business grows. A lack of comprehensive insurance protection could hit them hard in the pocket if something goes wrong.
"At Direct Line business insurance, we have a wide range of products and services giving tradespeople the protection and value they need. From our Tradesperson cover and Tools Essentials service to our Employee Liability and Van Cover, our products give tradespeople the reassurance that if anything goes wrong, we'll be on it."
For more information about Direct Line business insurance's Tradesperson cover, please visit their website: https://www.directlineforbusiness.co.uk/small-business-insurance/tradesman