ThistlePro Plasters

The Plastering Show on Fix Radio is proudly sponsored by British Gypsum.
British Gypsum have been been supplying skilled plasterers with the highest quality products for over 100 years - so they know a thing or two about plaster!
The ThistlePro range from British Gypsum features the most hard-working finish coat plasters.
Designed to offer more choice when it comes to plaster, the range provides an opportunity to add an extra dimension to plastering, giving either the plasterer or end user extra benefits compared to standard plaster.
---
A durable skim finish plaster that increases damage resistance by 60%

ThistlePro DuraFinish plaster is 60% more hardwearing than standard plaster providing excellent resistance to glancing impacts or accidental damage such as scratching, gouging or chipping.
It offers impact resistant walls in high-traffic areas including corridors, stairwells and canteens in healthcare, leisure, social housing, education or office buildings, as well as busy hallways and rooms in houses.
ThistlePro DuraFinish plaster can be used on plasterboard or undercoat plasters, or for re-plastering and repair work on previously finished walls. Any damage to small areas does not spread or cause debonding, making repairs easier.

---
A unique skim finish plaster that attracts magnets to create interactive walls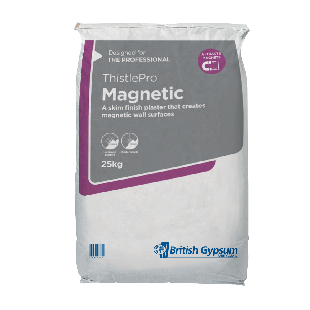 ThistlePro Magnetic plaster contains special additives to attract magnets, allowing the creation of interactive walls.
Walls can be decorated with paint, wallpaper, stickers or specialist finishes such as whiteboard or chalkboard paint without affecting the attraction of the magnets.
ThistlePro Magnetic plaster can be used on a wide range of background and dries to a light grey colour.
This product can be used to create interactive walls in all types of properties including schools, nurseries, offices, kitchens and bedrooms

---
A skim finish plaster that contains Activ'Air technology to remove formaldehyde (a common VOC) from the air, making indoor space healthier.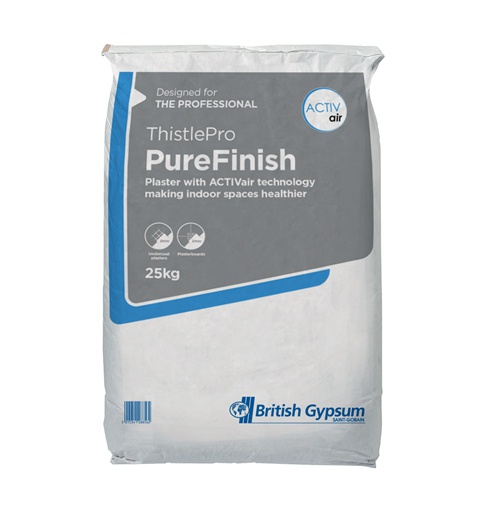 ThistlePro PureFinish contains Activ'Air technology which decomposes formaldehyde emissions into non-harmful inert compounds, improving the air quality within buildings.
ThistlePro PureFinish can be used to finish most common backgrounds including undercoat plasters and plasterboards.