The Laid-Off Bricklayer Who Now Runs An £11m-A-Year Business
Posted: Monday, February 8th, 2021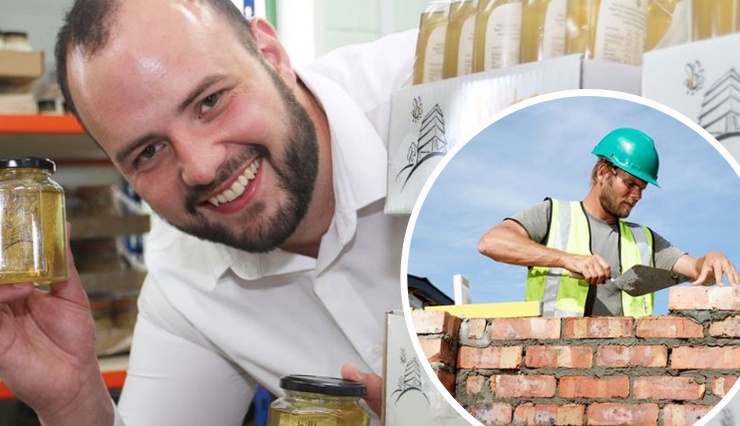 They say everything happens for a reason and that couldn't be more true for former bricklayer Scott Davies, who after being let go from his bricklaying job decided to pursue his passion and it's paid off massively.
£11m-a-year massively to be precise.
And while it might sound un-bee-lievable, it's a honey business empire that has turned the former bickie into a massive success with industry experts regarding his business, Hilltop Honey, as one of the fastest-growing companies in the UK.
It's a truly remarkable success story for the Welshman who almost failed his GCSE's, was let go from a bricklaying company at the age of 22 and is now turning over millions with his product stocked on supermarket shelves all over the world.
Speaking to Wales Online, the 32-year-old businessman said he was at a crossroads upon leaving school, completely unsure as to what path he wanted to take in life.
"I never really thought past tomorrow and I just thought, I'll do bricklaying, did some construction work and then the credit crunch happened in 2011, pretty much all the work dried up and I ended up in a coal merchant in Newtown just bagging coal and driving a digger round," he told the publication.
After slipping a disk in his back the bricklayer was unable to work and was tuned away by multiple employers on his recovery.
That was when his mother pushed him to enrol in online business and marketing classes to give him the foundations needed to launch his business.
But it was by no means an overnight success -in fact far from it.
"I turned over £23,000 in the first year, £84,000 in the second year and £234,000 in the third - but I was making diddly squat," he recalled.
The laid-off brickie who built a multi-million pound honey businesshttps://t.co/cMuLrAQLad pic.twitter.com/gIAmxtig3Z

— WalesOnline (@WalesOnline) February 6, 2021
"The negativity started creeping in. I thought: 'I'm not making any money and I've just given three years of my life to this and I'm in my mid-twenties with no salary'. I told myself I had to make it work."
It was all about to change though after he appeared in London at the Welsh Government Trade Show and caught the attention of high street giant Holland and Barrett.
Nine months later, the group put in an order for 25,000 jars - with Scott still labelling and jarring everything by hand.
He turned over £600,000 in 2015 - four years after his initial decision to venture into the lucrative condiment industry, noting it was "years of pure pain, heartache and absolutely no money."
Then it was Tesco who came calling - placing an order and asking the entrepreneur to launch 2 products in 500 of their nationwide stores.
Now the company is a well established multi-million-pound organisation and things are only getting better.
Hilltop Honey runs their own 'Adopt a Bee' campaign in which consumers can learn further about the importance that bees have on the environment. The business donates 25% of the profits from this to the very deserving Honeypot Children's charity.
The company also created the 'Save British Bees by Planting Seeds' campaign, teaming up with Tesco and Ocado to encourage consumers to create bee-friendly gardens by using a free pack of seeds that came with each purchase of a jar of honey.
Not bad for a former bricklayer.
(H/T Wales Online)
Comments
Add a comment
Log in
to the club or enter your details below.