Man Refuses To Stop BBQing In Lockdown. Smashes Reporters Mic Away
Posted: Tuesday, February 16th, 2021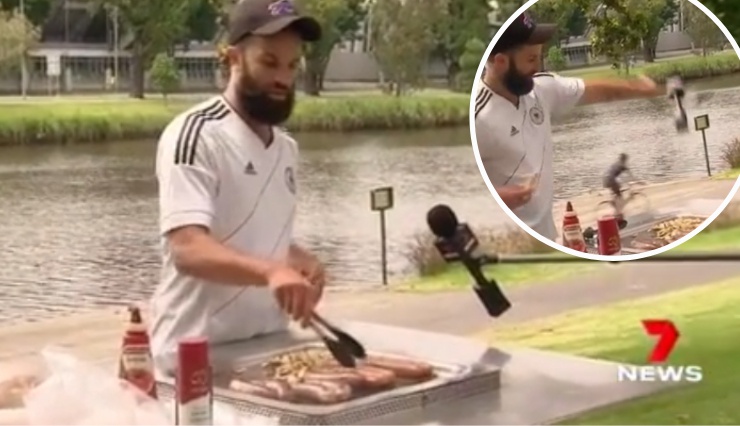 A video of a man refusing to stop barbecuing in a public place despite strict lockdown rules has gone viral on TikTok after the hilarious exchange with a local news crew was uploaded online.
In the clip, the man is cooking some sausages (or 'snags' as they call them in Australia) and onions on a public barbecue when he is approached and hassled by a television reporter asking him why he is blatantly flouting the current lockdown laws imposed in Melbourne.
After the reporter asks him "do you realise there's a lockdown?", the unknown man casually keeps going about his business while offering up a typically laid back Australian response in the form of "mmm can't wait for some of these snags, this is gonna be good as".
Out of nowhere, he then whacks away the reporters extended microphone stick - sending the mic flying off to the side.
The clip has been viewed by close to 2 million people since it was shared on TikTok and has racked up 243,000 likes with mostly positive comments in support of the bloke.
"You can't interrupt us Aussie when we're cooking snags," one woman commented on the video.
"Never annoy a man cooking snags," another man agreed.
"Just leave him alone," another user wrote.
One user was quick to point out the hypocrisy with the news reporter, observing the fact that "The microphone was not social distancing from his snags".
As of the 12th of February, Melbourne and the state of Victoria is currently under a 5 day 'snap lockdown' after 13 coronavirus cases were found locally transmitted outside of hotel quarantine.
Victorians are not allowed to leave their homes except for essential reasons – to shop, to offer care and caregiving, to exercise and for work.
Comments
Add a comment
Log in
to the club or enter your details below.