World's First Pothole Repairing Robot Uncovered in Liverpool
Posted: Monday, November 2nd, 2020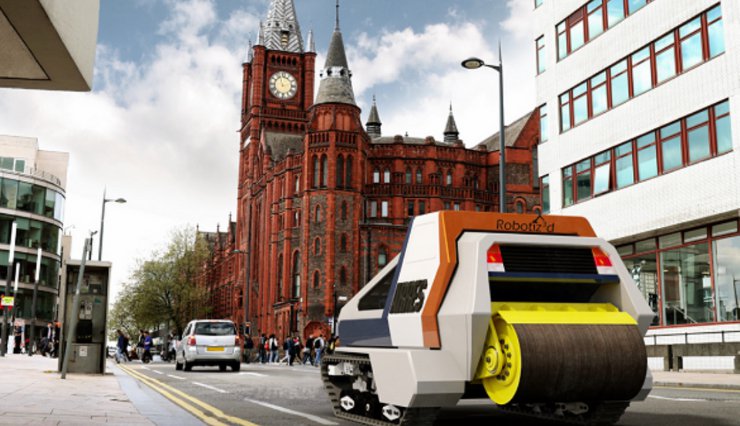 The University of Liverpool has revealed a new robot which is able to detect potholes and fix them. Robotiz3d is a new spin out company, formed by the University researchers to develop this new technology.
The subject of Artificial Intelligence (AI) in the Construction Industry is a much debated topic. Many people feel hesitant to accept robotic machines, with the argument that it will replace the need for manual labour and hence impact jobs. Others believe that Robotics will always need supervision on site and therefore will help to protect Construction jobs, introducing younger people to the trade and developing the trade with the times.
With potholes however, there is a massive need for change. A freedom-of-information request by the RAC to Highways England uncovered that there were 528 successful claims relating to vehicle damage caused by potholes in 2017 - 2018. With the number rising each year.
"Current methods to detect and repair potholes are labour intensive and as such are slow, unsafe, and costly to the economy and environment.
"The new technology we are developing will make road maintenance tasks faster, cheaper, and cleaner and ultimately make roads safer and more accessible." says Dr Sebastiano Fichera, Technical Director of Robotiz3d.
The new technology for the Pothole fixing robot, will combine AI and robotics to substantially improve detection and fixing of road cracks and potholes.
"Robotiz3d Ltd will develop an Artificial Intelligence (AI)-driven robotic system to address the national and international potholes problems." says Dr Paolo Paoletti, the Chief Technology Officer for the company.
"The proposed system will be able to autonomously detect and characterize road defects such as cracks and potholes, assess and predict the severity of such defects and fix cracks so that they do not evolve into potholes."
To find out more about the Pothole fixing robot, tune in to The Clive Holland Show, Thursday 5th November 2020, where Lisa Layzell - CEO of Robotiz3d Ltd will be joining Clive from 1pm. Or alternatively, listen On Demand here.
Comments
Add a comment
Log in
to the club or enter your details below.