Wilo UK Women In Water Industry Webinar
Posted: Tuesday, November 10th, 2020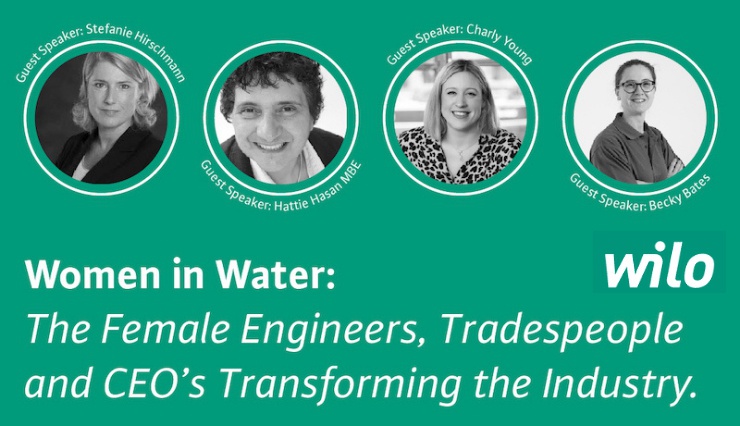 Wilo UK are hosting a Women In Water Industry Webinar on Thursday 12th November, 14:00-15:00pm. The Webinar will focus on leading female engineers, CEO's and tradespeople and how they are transforming the water industry and challenging stereotypes.
The Webinar will be the penultimate addition in a series of webinars hosted by Wilo UK, and will discuss how important it is for women to continue to grow the trade industry and how to overcome/deal with the everyday obstacles and challenges that come with that. There will also a chance for guests to ask the speakers questions or ask for some advice.
Staggeringly, as it stands, only 4.4% of all tradespeople are women. This includes professions such as plumbers, electricians and construction workers. Despite this figure still being low, it is a vast improvement compared to ten years ago, when the representation was just 2.1%. This suggests that however slow, the industry is changing and there is much hope for positive changes in the future.
Driving this change will be a central topic in the Webinar. With the below speakers taking part in the conversation:
Stefanie Hirschmann, SVP Group Procurement & Supply Chain Management at Wilo Group
Hattie Hasan MBE, Founder of Stopcocks Group Ltd & National Register of Tradeswomen CIC (one of the first guests here on FIX Radio's Clive Holland Show)
Charly Young, Co-Founder & CEO of The Girls' Network
Becky Bates, Owner of BB Plumbing
"At Wilo, we want to set a benchmark for supporting women in the industry and there is a huge drive internally to support this. At Wilo Group 37% of the workforce is female and we have received the Total Equality Award for promoting equal opportunities within the workplace.
"The diverse panel has a range of experience and knowledge to share both how we can support women in the industry now, as well as encourage a new generation of female engineers, construction workers and tradespeople through guidance in schools and mentorship schemes. This is a topic that should be at the forefront of the industry and we look forward to hosting this important discussion." says Lee Tebbatt, MD of Wilo UK.
To learn more about the Women In Water Webinar and to register, click here: https://attendee.gotowebinar.com/register/6925697709987878926
To learn more about Wilo UK, visit: wilo.com/gb/en/ and tune in to David Williamson, Sales and Marketing Director for Building Services at Wilo UK speaking on The Clive Holland Show from 1pm or listen On Demand here.
Comments
Add a comment
Log in
to the club or enter your details below.