Think Before You Dig - The Dangers of underground Electricity Cables
Posted: Monday, November 2nd, 2020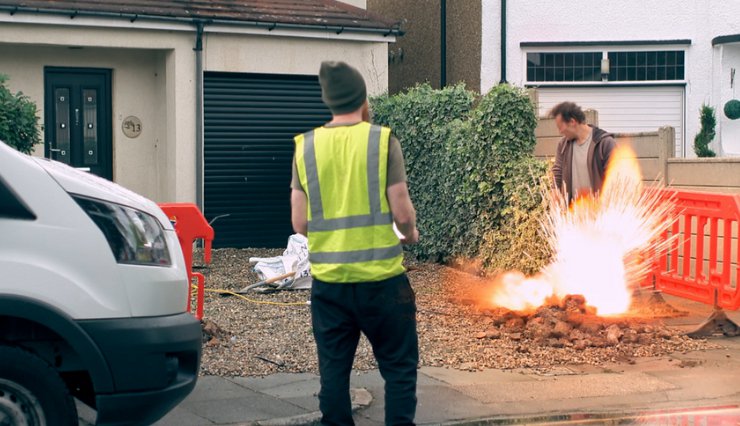 According to new research released by the Energy Networks Association (ENA), nearly a third (31%) of construction workers are risking their lives by failing to check for underground electricity cables when digging on site.
The ENA have now launched the 'Think Before You Dig' campaign, to spread awareness of the dangers of underground electricity and prevent further digging disasters.
The Research reveals nearly a third (31%) of tradespeople do not always check for underground cables. As a result, 354 people in the last five years have suffered life changing injuries after striking a live underground electricity cable, making construction workers at extreme risk with 4 out of 5 reported incidents involving a tradesperson.
"It's extremely concerning to hear that even though construction workers are one of the most-at-risk groups of injury involving underground electricity cables, more than one in four fail to check for cables before beginning work. With the proper education and support, these issues can be addressed and, ultimately, lives can be saved." says Peter Vujanic, Chair of ENA's Public Safety Committee.
Incidents have increased by as much as 30% in some places in the UK this year, which could be attributed to COVID-19 and a backup of work due to the national and local lockdowns.
Despite the threat to life, the main reasons tradespeople fail to check for underground electricity cables is because they don't believe it's their responsibility (15%), or they don't think they'll dig deep enough to hit anything (24%). Since 2015, 70 people on average a year are seriously injured as a result of contact with underground electricity cables. Nearly half of all cases (47%) were reported on public highways, construction sites and industrial buildings making tradespeople at extreme risk of serious injury in the workplace.
"That is why we have created a new safety film, to help remind tradespeople of the dangers involved when working near underground electricity cables, urging those in construction and similar industries to Think Before You Dig."
In addition to the new safety film, The ENA has also released a new set of Plan, Scan, Think Before You Dig, life-saving safety guidelines targeted towards industry professionals whose work may take place near underground electricity cables:
Plan ahead - Always be mindful of what services lie below ground when digging or excavating. Ask utility companies for plans in advance.
Assess the risks - Identify the dangers and hazards associated with excavations and put controls in place to manage them.
Scan and locate – Take care when digging, always locate underground cables before digging with the use of cable avoidance tools.
First, use your hands – Before using any electric or mechanical excavation tool, you must consider hand-digging trial holes to expose the services
Always assume, that underground cables are live even when damaged.
Know who to call - In case of an emergency dial 999 and tell them electricity is involved. Call 105 if you have a safety concern related to the electricity network or if you spot damage to underground cables and substations that could put you, or someone else, in danger.
Think Before You Dig
Despite the worrying numbers, 93% of construction workers who were surveyed believed that they always digged safely.
For more information on underground cables and how to work safely near them, please visit the Energy Networks Association website at: www.energynetworks.org/thinkbeforeyoudig

Tune in to The Clive Holland Show, Tuesday 3rd November 2020 to learn more from Peter Vujanic, Chair of ENA's Public Safety Committee. Or alternatively, listen On Demand here.
Comments
Add a comment
Log in
to the club or enter your details below.