The Bald Builders: The Bald Festival for Chestnut Tree House
Posted: Friday, October 30th, 2020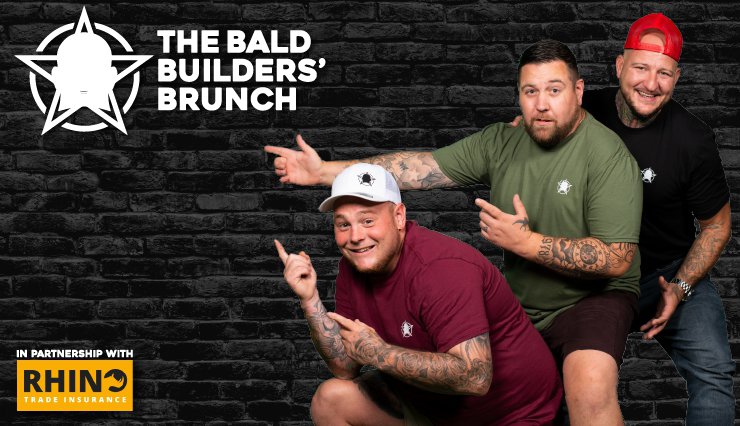 Fix Radio's very own Bald Builders, Brad Hanson and Sam Hughes, aim to throw the world's biggest Covid-era Festival the 'Bald Festival', raising funds for their local hospice, Chestnut Tree House in 2021.
The Bald Builders, as they are known by over a million fans online, have always been ambitious. As well as an impressive background in plastering and building, the pair have also published a children's book and became internet sensations for their comedy routines, songs and quirky personalities in their early twenties.
Brad and Sam are now turning their talents to charity work, with plans to throw the World's biggest Covid-era festival, 'The Bald Festival', all in the name of their local hospice, Chestnut Tree House.
"Chestnut Tree House is a local hospice to where our business is based and we couldn't think of another organisation that we would like to support more whilst also bringing together 250,000 people along with their facemasks at The Bald Festival"
The Bald Festival will be a family-orientated environment, which will welcome 250,000 virtual festival-goers to take part from the comfort of their own homes. The festival will be broadcast live online and will feature a safely-assembled cast of media stars ranging from stage, charts and screen. Attendees will also be able to see their masked faces printed on to boards to symbolize their physical appearance, bringing people together from all over the world and share an unforgettable experience, all the while creating a safe family space and raising awareness for their local hospice.
"Family to us is everything and being that I've got four children of my own, I could only imagine what the families must go through when their children have to attend Chestnut. We felt it was our duty to come up with a concept that would help raise a nice amount of money and lots of awareness for this great hospice."
Currently confirmed artists:
Boyz on Block – the boy band supergroup featuring Abz Love (FIVE); Ben Ofoedu (PHATS & SMALL); Dane Bowers (ANOTHER LEVEL) and Shane Lynch (BOYZONE)
Crissy Rock
Platinum
Sweet FA
Richard Wisker
TayTay Starhz
Jack Rose
Plus more to be announced!
The good work doesn't stop there though. The duo are also hosting a Bald Kitchen 'Burger and Book Day', whereby they will be giving out 250 free hot meals to children in the local and surrounding areas, with help from Aldi and Express Food Rustington.
" I saw the video the lads put up where they were talking about hosting a FREE Burger and Book day and we couldn't help ourselves and had to get involved. We had to show our support for such a great cause" Aldi, Rustington.
As well as free burgers, The Bald Builders will also be giving out copies of their children's book, 'We're Making Burgers', which educates kids on how to make their very own healthy burgers from scratch.
"Brad and Sam are a great pair of lads and when they asked if we would support them with supplying 250 FREE soft drinks for their Burger and Book day we had to say yes. The lads are doing a fantastic job and hosting this FREE day is brilliant" Express Food Rustington
The Bald Kitchen Free Burger & Book Day will be held on the 8th November 10am - 3pm 2020. To get a ticket head to thebaldhub.com/books
To find out more about The Bald Festival, being held on 30th January 2021, visit https://thebaldfestival.com/
Tune in to the 'Bald Builders Brunch' on Fix Radio, every Friday morning from 11am on DAB in London and Manchester, or right here via our online player.
Comments
Add a comment
Log in
to the club or enter your details below.