ROCKWOOL launches Green Homes Grant companion app
Posted: Monday, January 25th, 2021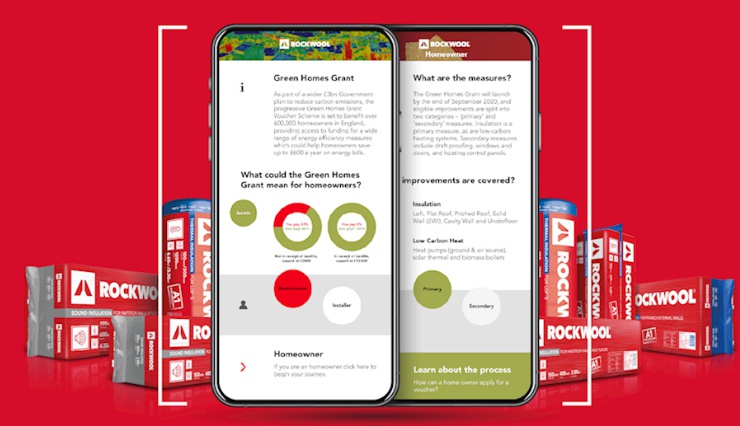 ROCKWOOL Green Homes Grant app supports homeowners with energy efficiency scheme.
With homeowners across England exploring the opportunities presented by the Green Homes Grant Voucher Scheme, stone wool insulation manufacturer, ROCKWOOL, has launched the 'ROCKWOOL Green Homes Grant app' to support those looking to access funding for energy efficiency improvement projects.
The ROCKWOOL Green Homes Grant app has been designed to guide homeowners through the application process, and support them in making the most of the Green Homes Grant opportunity. The app features a step by step guide to accessing Green Homes Grant funding, details of the qualifying home improvement measures, and advice on the breakdown between 'primary' and 'secondary' measures within the scheme.
The app also shows homeowners how ROCKWOOL can help them to do more with their Green Homes Grant by taking advantage of stone wool insulation, and keeping their home quieter, warmer and safer in the long run. Using the ROCKWOOL Green Homes Grant app, homeowners can explore the benefits of home improvements including insulation for lofts, cavity walls, external walls and underfloor applications.
Paul Barrett, Head of Product Management at ROCKWOOL, commented: "The Green Homes Grant is an excellent way for homeowners to access funding towards energy improvements for their homes, and we believe it is important that those homeowners can easily find accurate information and guidance on the scheme. With the ROCKWOOL Green Homes Grant app, we're providing a convenient resource which will enable homeowners to make informed decisions and ultimately maximise their Green Homes Grant opportunity."
The ROCKWOOL Green Homes Grant app is part of a wider suite of support materials for homeowners available through ROCKWOOL, which also includes a comprehensive homeowners' guide. For more information, homeowners can visit the dedicated information page online.
The ROCKWOOL Green Homes Grant app can be freely downloaded by searching 'ROCKWOOL Green Homes Grant app' on the Apple App Store and Google Play Store, or accessed online here.
James Mills, Product Manager for ROCKWOOL explains in more detail on The Clive Holland Show on Tuesday 19th January 2021. To find out more, Tune in from 1pm or listen On Demand here.
Comments
Add a comment
Log in
to the club or enter your details below.