Research raises concerns for government's environmental targets in the Construction Sector
Posted: Monday, January 25th, 2021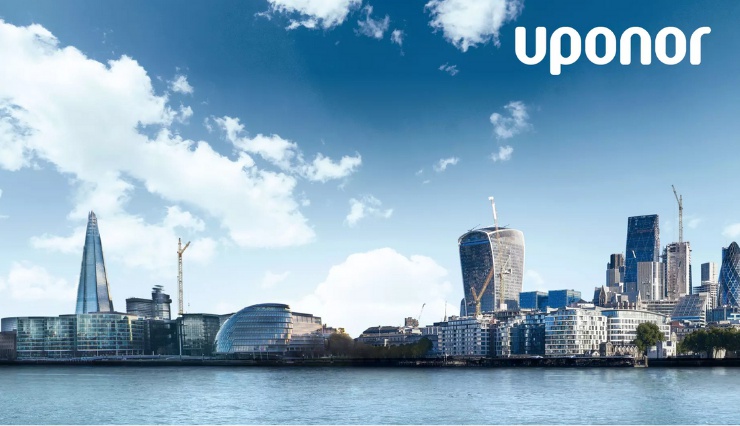 Uponor's recent Whitepaper has revealed that many industry professionals believe there needs to be big changes in the construction industry, in order to meet the government's net-zero environmental targets by 2050.
Reducing Greenhouse Gas Emissions in the UK is one of a number of the government's environmental targets for the construction industry. The main goal is to reach net-zero by the end of 2050, a target which according to Uponor's research, many in the industry see as a challenge.
The research by Uponor, the total solutions provider of systems for the safe transportation of water around a building, is listed in their current Whitepaper: 'High-Rise and Net-Zero Buildings of Tomorrow: Is the Construction Industry Ready?'.
The survey collected data from over 200 construction industry professionals, in order to gain an insight into what needs to be done to achieve this goal.
From this data, 77% of respondents believed that these goals will be challenging without significant changes to the way that homes in the UK are build and refurbished.
Over half of the respondents questioned didn't think it would be possible to disconnect all new homes from the gas grid by the Future Homes Standard's deadline of 2050. This has many in the industry concerned about the even closer 2023 deadline for Boris Johnson's 'Green Industrial Revolution' plan, with many doubting there will be enough time for the industry to adapt.
In fact, only 10% of those questioned felt the industry has enough support, financially and otherwise, to deliver low carbon homes. This view is further emphasised by 70% of respondents believing there needs to be more training and awareness in the industry in order to create low carbon homes.
"Our research uncovered scepticism in the construction industry regarding its ability to meet the government's environmental objectives – showing that there are still lots of sustainability challenges to overcome.
"Among these challenges are the efficiency levels of HVAC systems and heating networks. At Uponor we're well aware of the important role these systems play in creating sustainable housing, which is why we work hard to develop solutions that help create a greener built and living environment." says Zisis Nikoloudis, Commercial Segment Manager at Uponor.
"It is important that awareness of sustainable solutions, such as low water temperature systems and low thermal loss heating networks, is increased. If smart systems like these are embraced by new-build and refurbishment projects then it will help the industry in its route to achieving net-zero carbon status."
Download the full Whitepaper Report here: uponor.co.uk/specification/whitepaper
Visit uponor.co.uk/ for more information.
Sam Barker, South Regional Sales Director at Uponor UK, explains in more detail on The Clive Holland Show on Monday 25th January 2021. To find out more, Tune in from 1pm or listen On Demand here.
Comments
Add a comment
Log in
to the club or enter your details below.