On The Tools Hi-Viz Hero Winner: Dulux Select Decorator Sean Kelly
Posted: Monday, November 9th, 2020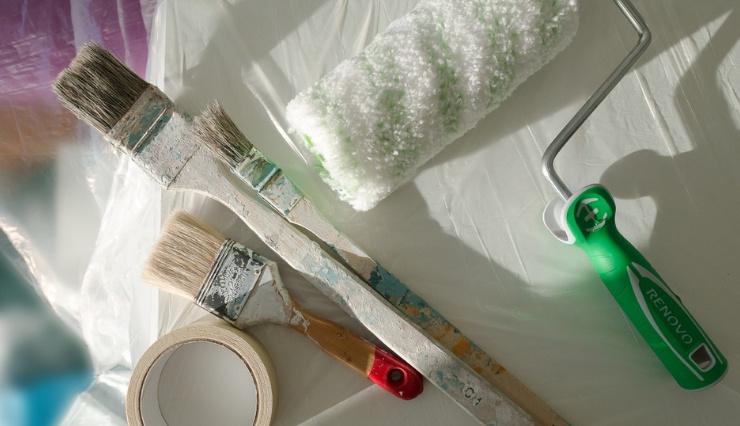 Sean Kelly, a 52 year old Dulux Select Decorator has won the On The Tools: Hi-Viz Hero Award for his charitable acts during lockdown.
Throughout Lockdown, Sean has been busy delivering countless parcels of food and prepared meals to those in need, as part of a volunteer effort for the OneVision Project, based in his hometown of Watford, Herts.
Sean's selfless acts have now been Industry recognised, and last week he won the On The Tools High-Viz Hero Award.
The Hi-Viz Hero Awards celebrate all the good that is happening in construction, focusing on workers, subcontractors, manufacturers and construction companies from across the UK.
"A lot of people have been going through extremely difficult times over the last few months, so I'm just happy to bring some recognition to the OneVision Project and the amazing work that they do.
"It feels great to receive this award and I just hope I inspire some more people to get out and help their communities in times like these." Says Sean.
Sean is also a very accomplished Decorator, having passed rigorous assessments to gain his title as a Dulux Select Decorator, amongst a group of over 575 quality decorators who are also Dulux approved.
Sean was compelled to volunteer after lockdown restrictions were enforced, initially giving up three days of his week to commit to the project with OneVision. Working with OneVision and local charities and restaurants, together they were able to provide meals to those in desperate need due to the challenging circumstances.
"We're all working together to support those families who need it most and you can see the gratitude from the people receiving help and you just want to do more for them."
Sean plans to continue his work throughout the second UK lockdown.
He said: "I've found the whole experience incredibly moving. People still need our support so I'm going to keep helping for as long as I can."
Dulux Select Decorators Lead, Vickie Mather, said: "We're so incredibly proud of Sean, and the work he's been doing for the community, he was an obvious choice to nominate for this award.
"He's a perfect example of how our Dulux Select Decorators continue to go above and beyond through these difficult times."
Seans charitable work is quickly becoming known, with him recently being recognised in the #TrueColours movement, designed to celebrate and publicize selfless and generous acts of kindness across the decorating sector as a result of the Covid-19 pandemic.
To find out more about #TrueColours, see their Facebook group here.
Learn more about Dulux Select Decorators here: www.duluxselectdecorators.co.uk.
You can catch Sean on The Clive Holland Show, Monday 9th November 2020 from 1pm, or listen On Demand here.
Comments
Add a comment
Log in
to the club or enter your details below.